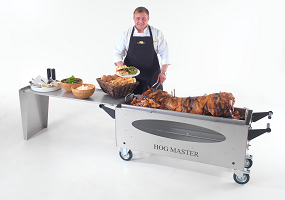 What sort of ideal caterer do you imagine for your party, or wedding, or charity fundraiser? They should probably be flexible enough to accommodate both small and large parties; they should probably be able to take care of everything, so you can just enjoy yourself;.
They should probably work closely with you to come up with a menu you love – and they should probably, above all, serve up mouth-wateringly good food that satisfies both you and your guests, making your day (or night!) perfect.
Taste the Cracklin's Hog Roast in Wakefield means all of those things – our delicious hog roasts are the centrepiece of the complete dining experience that we offer.
Firstly, how we deliver on all those promises. We begin by offering a complete flexibility in the amount of involvement we have in your event; that means that at the very least, we offer the option of being able to rent one of our custom-designed hog roasting machine from us.
For either a day, or an extended period of time, so you can be in control of your own event (don't worry – we show you how to use them!)
And so it goes on, from that low level, to us providing you with waiting staff and chefs to serve you dinner just how you want it.
And this is flexibility is mirrored in Hog Roast Wakefield menus; our base level menus are a range of spit-roasted meats, served in fresh bread rolls, with their respective sauces and trimmings (so, if you have a hog roast, it comes with apple sauce and crackling).
This allows a greater amount of informality, perfect if you are having something akin to a garden party, or an event where you want all your guests to be walking around at their leisure.
Hog Roasts And Varied Menus For Any Occasion in Wakefield
Taste the Cracklin again can scale all this up to a three course meal, with a huge range of bespoke canapés, starters, salads and desserts, as well as serving our perfectly spit-roasted meat in a delicious main course.
But our menus are always more of a guideline; if you have something specific in mind, there is a good chance our experienced chefs will be able to incorporate it into an existing menu. We want to please you, not do what is most convenient for us.
And it's that spirit of not settling for what's just "good enough" that is earning us a reputation as a consummate catering team – from diligently choosing the sources of our ingredients.
To ensuring the site is left in the state we find it – we consistently earn compliments from our customers, and nothing delights us more than getting repeat bookings, which, luckily, we seem to get. It's this trust and rapport which allows us to serve the people of Wakefield in a much more faithful way.
If you are planning an event in or around the Wakefield area, then we really think that we are your best bet, no matter the nature or the size of your event. We've worked hard to make sure we can do it all – contact Taste the Cracklin Hog Roast soon to see for yourself!