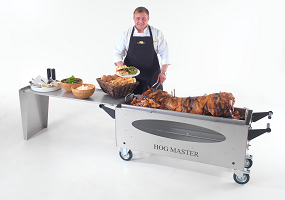 The glorious nation of Wales stands as one of the most naturally beautiful territories on Earth.
With beautiful, sweeping mountains as seen in Snowdonia – the Welsh people also reflect such beauty.
With areas like Winterbourne – it is easy to see why Wales is fast becoming one of the more serious tourist locations in the whole of Europe.
The beautiful and dramatic valleys which often typify the natural beauty of Wales can also be seen as a great place to rear livestock – which is why our delicate hog and spit roast catered events are more popular than ever.
In Cardiff, the menus of the finest restaurants are often laden with dishes which depict the liberal use of Welsh Lamb – and we adore using this special produce on our spits – the flavour has to be eaten to be believed.
In Amlwch, Taste the Cracklin serve some of our most dedicated aficionados with our delightful menu options – always receiving praise for our staunch efforts. The people of Wales are a true delight to serve, and they certainly know how to spot good food.
In areas such as Benllech, Taste the Cracklin have acquitted ourselves at numerous hog and spit roast wedding catering events – with our food always an instant hit with those present.
By only ever using local produce – we not ensure that Welsh farmers stay in business, but that the best produce is served on our clients plates. Welsh produce is something to be celebrated, and there really is no finer way of doing this than by using our delightful hog roasting and spit roasting machines.
With a vast and ever increasing client base in Wales, why not have your next event in Cardigan – you really cant beat it. Also, our corporate functions in Aberdovey are always something to shout about.
Here at Taste the Cracklin Hog Roast Catering in Wales, we pride ourselves in giving the amazing people of the Welsh valleys a truly exceptional hog roast catering service.
If you just want to feed a small number of close friends, or hundreds at a wedding, Taste the Cracklin aim to provide the best service around as well as the most delicious hog roast catering you can find so when you are looking for a hog roast in Amlwch, Benllech or Cardigan there really is only one place to look.
We only use the most delicious ingredients in everything we cook and our team are all hugely dedicated to delivering top quality food and service to make sure that our team delivers on every occasion.
We have been providing this service for many years now and quickly established a reputation for providing delicious culinary delights to the wonderful people all over Wales. To truly understand what makes what we do so special, you have to experience it for yourself.
Picture the scene: Next time you hire out a catering company, instead of a traditional buffet service or sit down meal like so many people do, you have a succulent pig roasting until it is at its mouth watering and delicious best by one of Wales premier hog roasters, using specially created machines.
Imagine the astoundment on your guest's faces as the smell of this fantastic Taste the Cracklin hog roast drifts through the air, then the pure delight as they take their first bite and discover how delicious it is. We also offer a wide range of delicious meats than can also be cooked on our machines.
You can also have poultry, beef or lamb if you want to give you and your guests an amazing choice of tasty food. You also choose the side orders you want to appear on your menu, any other extras such as delicious apple sauce – the perfect accompaniment to our spit roasted pigs.
All of the food on the menu will be cooked and prepared on site form fresh by our team of highly skilled and experienced chefs and served directly to your guests.
This exceptional and unique service is just one of the reasons why Taste the Cracklin has gained such an brilliant reputation for providing top quality catering for any event of any size.
If you are after a true alternative to traditional catering event, then a hog roast really is the best option. We guarantee that you will not be disappointed if you choose us to cater for you. We have many customers who return to us time and time again because they are immensely satisfied in what we did for them.
We are lucky that our company is based in an area of such natural beauty as Wales. Not only do we get people In towns and villages enquiring about our service, but we able to gather our ingredients from the welsh farms and markets.
We promise you that no matter what menu option you decide the ingredients that we use will be ethically farmed and all organically produced.
Taste the Cracklin goes the extra mile to provide our customers with this because we understand what a huge difference to the flavour it makes but we also understand that this matters to our customers.
This is just another aspect to what makes us stand out from other catering services in the valleys and why you will not be disappointed if you chose us.
If you live near any of the large towns or even right up in the rural valleys, there are many locations which you might reside in. Whether this is there are many beautiful sights which you can enjoy courtesy of the wildlife that is attracted to living nearby the beautiful welsh hills.
As well as being surrounded by pure and unbelievable country side, the people who live nearby will be able to enjoy the catering option which we are proud to provide. The answer to that is a wide and varied range.
Whether this is a party in honour of a birthday, a christening or even a party to celebrate the New Year, we can also offer hog roast catering for a wedding reception as well.
If you want your big day to be even more memorable, by choosing Taste the Cracklin, this will enable this to happen. By looking through our website, you will see for yourself the wonderful menus that we have served to our multiple customers who have asked for our assistance in locations all around the River Avon.
Therefore, by doing this you can see for yourself about what we can offer long before we actually arrive and start to cook your hog.
We are also confident that you will more than pleasantly surprised at the price of Taste the Cracklin catering and we can do this without sacrificing on quality.
We don't believe in having set prices for our menus. This is because each event we cater for is different depending on you the customer and what it is you want you see appear at your event.
Even if it is just letting us know how much cutely you need, to the obvious details like the food that your customers will enjoy, all of it is completely down to you.
We want to take as much of the pressure off you when you come to us,so you can get on with enjoying your party safe in the knowledge that you guests are enjoying a first class hog roast service.
So why not find out today why Taste the Cracklin hog roast catering in Wales is one of the most well respected catering services in the whole of Wales. Give us a call today and let us arrange to provide you with an outstanding hog roast that your whole party will love.