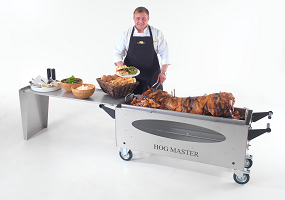 Will you be hosting an event soon and want a different style of catering to make it more special and memorable for you and your guests? Well Taste the Cracklin hog roast in Wareham can offer you a service that hits the right mark on all aspects with your very own specialised hog roast dinner.
Taste the Cracklin would like to offer you this time old tradition of spit roasting and give you a taste of History.
We have some great farm land around and we select only the finest produce from it for you, like we say we keep it local and only use the freshest available produce around to make sure you have the best tasting meats for the best prices.
We are not limited to Pig and Pork you could try our finest Lamb with the seasoning of your choice, mint is a firm favourite and is sure to set the taste buds on fire once it has been slow roasted to perfection by our state of the art slow cookers.
Beef is firmly on the menu with select cuts tasting succulent and moist, we can give you white meats as well with Chicken going down well for that smaller event such as the family BBQ.
Turkey can also be provided which is a great idea for that Christmas function or works do that no one wants to cook and cater for, we cover all the bases so you can relax and enjoy your day whatever the occasion may be.
We can also cater for vegetarians with fresh, crisp salads an option and our world class potatoes no one will be left out with this versatile form of cookery.
The Best Hog Roasts In Wareham
If you like the idea of trying hog roasting yourself but are worried about cost and commitment then why not come to us and hire your very own hog roaster.
Taste the Cracklin can help you with that by providing you with one of our top of the line roasters, we come and drop off the roaster wherever you want it and you do the cooking yourself seasoning the food how you like and want it with minimal fuss and effort as our hog roasters are so versatile they are basically self sustaining leaving you freer to keep everyone's glass filled to the top while you soak in the chat and surroundings.
Imagine all the family gathered round a hog roaster with the amazing aroma of cooked pork gracing the nostrils, a treat for the senses indeed. we can make that day happen for you with our staff there to help and assist in any way they can, we can help you with any problems you might fear with top notch advice coming from time served professionals making sure your day is a hassle free one.
All our Chefs and staff are highly trained and adhere to all the latest up to date regulations in today's field of catering, we really do provide you with the best service in this field guaranteed.
We only use the best state of the art hog roasters, they are amazing to see used and can fit in to most spaces big or small, so if you only have limited amount of room we can utilise that and fit in our hog roaster to suit you.
You can also limit pressure for outside functions with a state of the art hog roaster as we can use them indoors also, all we need is small space and could easily operate in spaces such as a garage or gazebo kissing away weather worries.
How many times have you missed an event or BBQ for fear of getting wet well hog roast is the way to go for a problem free form of catering. Pig roast Wareham can also help with that tight budget as it is not as expensive as you would think, we can eliminate problems and expenditures such as providing waiting staff.
Our hog roasters are self sufficient and self serving only the general carving being required, our Chef will take care of that or if you have hired your own roaster then you can do it at your own leisure.
We can also take care of food amounts, you must have been to an event and there wasn't enough food for everyone invited well with one of our pigs feeding at least 100 people.
You can easily do the maths and provide top class, mouth watering catering for them all without the worry of anyone going hungry or without, if you have 200 guests then just order 2 hog roasters it really is cost efficient and effective way to cater for a large group of people leaving the stress and worry behind giving you a hassle free day spent doing the things you should be doing.