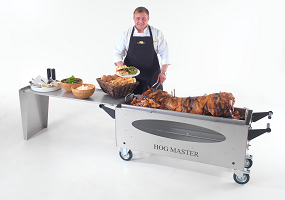 What makes an event special? Here at Taste the Cracklin's Hog Roast in Waterford, we think that getting the food right can make or break an event.
And trust us! We should know. Catering for so many events has let us see the importance quality food has, and the bearing it has on how well the day goes.
After all, well-fed guests are happy guests, and we are committed to producing top quality food, and providing excellent customer service to go with it.
We are the number one choice for hog roasts, of course. Some might see the fact that we specialise in hog roasts as limiting; what about, they ask, vegetarians, or people who just all that crazy about hog roasts?
Well, firstly we would emphasise that our hog roasts are truly unique: we designed our own hog roasting machines, because we were not satisfied with any of the available units – our machines give a cleaner experience, as well as delivering a perfectly cooked hog, every time.
Secondly, we'd say that we are as flexible as every caterer has to be these days, and more so! We spit roast all sorts of meats, from spring lambs, to sirloin of beef, to whole chickens and turkeys, as well as offering all your favourite barbecue options.
Similarly, our machines are capable of cooking side dishes like baked potatoes, as well as meat, so there's always something for everyone.
Also, our experienced chefs have gone to great lengths to devise several menus, ranging from simple hog roasts served in rolls, all the way up to four-course meals.
So, vegetarians, vegans, and those who thought hog roasts might be a little dull on their own, can all rest easy.
Offering So Much More Than Just Hog Roasts In Waterford
We have a hugely diverse range dishes, and we also can accommodate any specific wishes you may have for your event – so if there's an old family recipe you would like to see recreated, or perhaps you have to cater for specific dietary requirements, no problem.
We are used to working closely with our customers to create an event they really want.
And we don't stop there; we cater for any occasion  – weddings, parties big or small (we have no minimum or maximum guest limit), corporate events, charity fundraisers, festivals and fun days. We have seen it all, and catered for all.
Taste the Cracklin work indoors and out, and just need a well-ventilated space for our machines to do the business in. Summer or Winter, the hog roast is a dish for every occasion, a Summer barbecue or a Winter warmer – it can be whatever you want it to be, and so can we!
So if you are in the process of planning your event, whatever it is, don't hesitate to contact us here at Taste the Cracklin Hog Roast so that we can plan something truly special together!