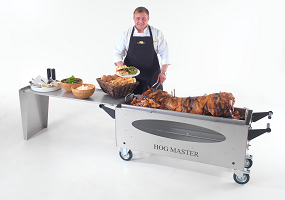 It may have taken a few years to undergo its redevelopment and the twin towers may no longer be there but Wembley Stadium remains an iconic landmark in world sport, in particular football, and it is certainly every footballer's dream to play there and lift a trophy at some point in their career.
But the stadium is not the only famous location in this town. Wembley Arena has been host to many huge events over the years and of course was originally the Empire Pool, a swimming pool for the London Olympics of 1948. This corner of Middlesex is certainly a hive of activity and that is before we even consider the thousands of people who live in Wembley.
It can be easy to forget that Wembley is not simply a sporting and event location but a town, and a busy one at that. The people of Wembley probably do benefit from being based in such a high profile location but does this have any impact on their ability to enjoy a social life? Just ask the hog roast hire Wembley caterer and you will get a very swift answer indeed. A resounding no!
Yes, Wembley is just another town in the UK that appears to be enjoying a new found love for that most traditional of dishes, the hog roast.
Taste the Cracklin's Hog roast Wembley events are on the increase with more and more people deciding that the best way to cater for a special occasion is to treat them to some superb quality slow roasted pig. Well, it does taste quite wonderful!
Have you ever had the chance to attend a hog roast hire Wembley event? If not then you really are missing out on something special because hog roast is one of the tastiest catering solutions out there, in fact I'd go as far as saying it is the very best catering solution there is!
If you have had the chance to sample hog roast then you will know that it really is incredibly tasty and wholesome with a uniquely wonderful flavour.
One thing is for sure and that it is a world apart from some of the dire catering solutions that are often still served up at many events. You know the sort, pizzas, sausage rolls, chicken drummers. Hog roast is in a different league.
Memorable Catering For All Guests with Hog Roast Wembley
One of the things that helps a hog roast Wembley event stand out from the rest is that it is a freshly cooked feast. And by freshly cooked, I really mean it because the hog roast chef not only cooks the hog roast from scratch but they choose the actual pig that they cook for you, too.
Each pig has to be just right before it is selected for roasting, and that means checking the quality of the pig, the amount of fat and that it has been well reared by a local producer.
Then and only then is the pig considered good enough to serve. And of course then it is a case of cooking the mighty pig and that really does take a fair bit of time. Six slow roasted hours later, you and your guests will be treated to some of the most amazing tasting meat you will ever have tasted, which is no surprise because hand picked meat and six hours roasting is a guarantee of stunning flavours.
There is a lot more to hog roast than meets the eye, and if you are arranging a special event with one very close eye on the budget then you really should make hog roast your number one catering choice because it is something of a bargain.
Well, it may not be the cheapest option when it comes to catering but you are going to be hard pushed to find any catering solution that offers the outstanding quality and incredible flavours that you find in hog roast at this price. And then there is another factor that you really need to consider and that is the incredible amount of meat you get with a hog roast.
A standard sized Wembley hog roast is going to allow you to feed over one hundred of your guests with delicious, freshly cooked, quality meat. Just think of how many extra guests you could now invite….or do you want to make sure more of you get very healthy second helpings.
Whichever way you look at it, hog roast is a Wembley winner. Why look at inferior catering solutions when a Wembley hog roast is already the champion?