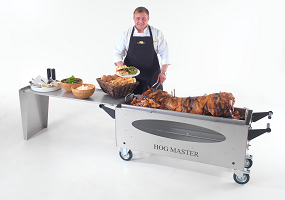 Here at Taste the Cracklin hog roast, Wendover, we're always busy. We're hog roast caterers and we provide a great catering service with crackling and decorations, or you can hire our hog roast machines if you have a more of a do it yourself attitude.
Wendover is a market town at the foot of the Chiltern Hills many hamlets that nestle in amongst the lush forest on the surrounding hills. Local landmarks include the parish church of St Mary just outside the town and the red brick, spired clock tower at the crossroads in the centre of the town.
Part of Wendover was once owned by Anne Boleyn and today a row of houses in the town are known as Anne Boleyn's Cottages. More recently, Wendover is also the birthplace of Cecilia Payne, the astronomer who first showed that the Sun is mainly composed of hydrogen.
The town is very popular with commuters. There are many hamlets in the Wendover civil parish, nestled in the surrounding hills and in the woods. It's a very pretty spot.
Last week we catered for a party in a local hotel; it was a great evening. We'd put up red and green balloons, set out the condiments, bread rolls and serviettes.
Then we wheeled the hog roast machine in and put the roast inside it. It was turning, giving off heat and its delicious aroma, mixed with the scent of the apple sauce and spices.
I just wanted to bite into its ruddy skin. I sometimes do feel like eating the hog roasts….they look so yummy. Other things I enjoy is waiting on people and providing great customer service.
I first realised this as a student when I started waiting tables. There is a certain pride in providing good service and making an evening perfect.
Anyway, our team was busy pouring drinks and greeting guests until it was time to carve the roast. It's always the same: as the blade sinks in, there's a little crackling noise and, as it bites deep, some juice seeps out. We always try to make the carving look good; give some flair to it, you know? It's a competitive industry out there, especially in this season.
A Special Way To Dine In Wendover
While I love doing the catering, we also get lots of hog roast machine hire orders. Yesterday we delivered a machine to a group of friends who'd hired out a room in the community centre for a party, and also to the owner of a gastro pub for a special hog roast evening.
We cater or hire to a lot of birthday parties, too, and I've catered for many weddings, corporate events, award ceremonies…you name it, we've seen it.
Our business takes us all around town and also out to the hamlets. The scenery is beautiful when we go out there. Usually we hire machines or cater for birthday parties in the hamlets, while most corporate events, weddings and community or charity events take place in the town.
We've been busy delivering machines to office parties these couple of days, and catering for the office parties that aren't actually in the office and where there's been more of an effort to give the employees a well-deserved chance to let their hair down.
Today, we delivered another machine for a birthday dinner in the function room of a pub. The client's friends kept looking at the machine and asking the client for a go at working it.
Our team explained that there's nothing really to work; you sort of just turn it on, really, and it just turns by itself.
We checked that the machine was working, as we always do here at Taste the Cracklin, and then we helped the customers put their roast in the machine.
A couple hours later, we went back to pick up the machine, and the customers seemed really pleased; they said it had been a great party and that none of them had ever tried a hog roast before. They thought it tasted good, different from other kinds of meat.
Then it was back to our kitchen to prepare a hog roast for a wedding reception. There's a lot of preparation and time involved with hog roasts – cooking, crackling, sauce, spices.
Sometimes it feels like our work is never done. But I wouldn't have it any other way. Hog roast catering is fun and it's my life.