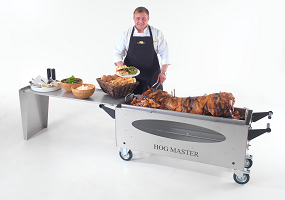 Wedding anniversaries are always special, whether it's your first or your fifty first. It is a great excuse to organise a great celebration so why not make the next anniversary one to truly remember for a long time to come by inviting absolutely everyone and make it an unforgettable experience?
Of course, catering for so many people is a tall order. How many friends and relations are going to be able to make it to West Drayton? Sixty? Seventy?
The more the merrier, but it does mean that you may have to consider bringing in a caterer to look after everything. In all fairness, that might not be a bad thing because there is now a catering solution for events just like this that can really help liven up any event and make it into something really quite special.
Booking a Taste the Cracklin hog roast caterer in West Drayton to look after proceedings at events is becoming a very popular option for many people these days, not just in West Drayton but in towns and villages all over the UK.
It seems that the hog roast is proving to be a very popular choice at events, and it is understandable why that is the case. A Taste the Cracklin event really means you can give your guests great tasting freshly cooked food that really is a notch up from everything else you may have tasted at events previously…and let's face it, there is usually something pretty poor served up at special events and social occasions.
We know how to provide your guests with great tasting food that really tastes amazing. So, what is the secret to hog roast and why has it taken this medieval dish so long to emerge from the shadows and prove itself as a true catering option?
Well, great tasting food has always relied on two things; great ingredients and quality cooking…and with hog roast you get both of these things.
You may thing that the need for great ingredients seems a bit daft given that there is really only one major ingredient in a hog roast, but choosing the right quality pig is so important.
You would not buy a poor quality steak and expect it to taste incredible, and that logic applies to buying a pig. The caterer ensures that each locally bred pig they source is quality through and through with just the right amount of fat.
All the top TV chefs know that great meat makes a difference and something else they will tell you is that slow roasting helps produce the very best tasting and most succulent meat.
Hog Roast West Drayton – Leaders In Our Field
Slow roasting is essential for a big lump of meat, so for a whole pig it really does make a difference. Slow roasting allows the meat to absorb every single drop of goodness from the bones, and it is this that really helps create incredible tasting meat, melt in the mouth texture and a proper event catering experience.
A Taste the Cracklin solution is not just about taste but about versatility, too. Every event is different so you may want a style of meal that matches the nature of the event. Of course, with a wedding anniversary, it may depend on how old the wedded couple are.
Chances are that you will want a sit down meal, and if that is the case, a gourmet meal could be the perfect solution for your West Drayton guests. Gourmet hog roast really shows off the chef's presentation skills.
The chef will carve the hog roast with professional aplomb and serve your guests with quite magnificent plates of hog roast complete with the usual, array of accompaniments including apple sauce and crackling, of course.
Then again, if you are planning a much livelier, younger or more informal event, your best option may be the quite wonderful hog roast rolls – sometimes known as 'pig in a bun'.
Pig in a bun is the most devastatingly tasty bap you will ever experience. The most perfect party food and always a huge hit with everyone who has them. Portable, hand held party perfection.
There are many more reasons why you should choose hog roast. I have not even hinted at how amazing it looks whilst it is being cooked or that it can serve over a hundred people…but I think you do understand that hog roast is the solution for your West Drayton event!