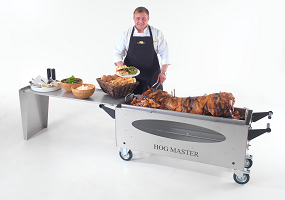 The metropolitan county of West Yorkshire was formed in 1974 via the constitutional reforms act. Like many other counties made at this time, the area in terms of land territory is small – however the populations contained within it are large.
Reflected in the population densities also, areas such as Ardingly still wear a demeanour of quiet and contemplative calm – even though their populations are large and sprawling.
As the regions leading hog and spit roast catering provider, we love serving the culinary based needs and interests of the people of West Yorkshire – as they have shown time and time again that their tastes tally with ours. In Leeds you will find a modern and vibrant city – full of the joys of conquest in many areas indeed.
The Corporate Menu features four options, ranging from the delightfully simple 'Pig in a Bun' menu, which includes a hog roast, bread rolls, crispy crackling and homemade apple sauce. To the more extravagant latter options, which give you your choice of starters, potatoes, salad, sauces, a choice of spit-roasted pig, lamb, beef, chicken, turkey or the vegetarian option, plus an option from our list of desserts.
Whatever option you choose for your event, we come to the venue, prepare and cook everything in our hi-tech catering van and serve it straight to you, drawing on the years of experience we have in the hog roast catering business. When gorging yourself on our spit-roasted pig, you'll be glad you came to us.
To ensure that our hog roasts, and indeed all the other things we cook in a similar fashion for our customers, are up to our very high standards, we use a top-of-the-range hog roasting machine, which has helped to make our job easier and more satisfactory.
As well as using a hog roasting machine ourselves, we also hire and sell machines, which make perfect sense if you've had something from us before and you fancy giving hog roasting a try yourself.
Hiring a hog roasting machine from us is perfect for many different events, both outdoor and indoor. If you're organising a community fair, graduation party from one of Sheffield's two universities, a street party or anything else along those lines as a one-off, then hiring a machine is the best thing to do.
There are plenty of good things about using one of our machines, and ease of use is just one of them. All you have to do is put whatever meat or vegetarian equivalent you want to cook straight onto the machine, turn it on, and then the machine does the rest, cooking it slowly for around six hours.
By cooking the meat slowly, it means that it doesn't dry out or burn easily. Also, it gives you time to prepare the drinks, sides, crockery and cutlery.
If you organise a lot of community events which require a significant amount of food for everyone involved, then perhaps buying one of our machines is up your street.
Buying one means you can use it whenever you feel like, and if used often enough for large groups, they'll want to have more of your spit-roasted meat.
The expansive and naturally beautiful ceremonial county of North Yorkshire is the largest county in the whole of the British Isles. Situated in the North of England, the land usage is made of nearly 40% National Parks – and you know what that means? Yes, you've guessed it – sumptuous, high quality meat produce from animals which have grazed on some of the most beautiful and nutritious land that Britain has to offer.
Here in Yorkshire, we have been delighted with peoples response towards or bespoke spit roast and hog roast event catering – from Binham, where we always receive exemplary kind words, through to pleasantries in the the city of York.
Many people including writers, historians and other dignitaries have applauded North Yorkshire for its physical diversity and true disparity when it comes to activities available for the family.
In Buroughbridge, for example, you can treat yourself to a lovely walk, closely followed by a fulfilling hog roast. In Carnforth you and your family or friends can really absorb the true nature of Yorkshire – naturally followed by another hog and spit roast of course.
In Wykeham you can really go for it – getting involved in the Yorkshire way with a juicy pork roll. Or why not head up towards Wollaston, where the party is ever over and there's always a hog turning.
North Yorkshire's climate is exceptionally varied, with areas nudging the sub-arctic circle and other areas having a semi-arid climate. This range and diversity in climatic conditions allows for a whole manner of vegetable and salad produce to be grown – which is great when we pull our menus together at your event – in front of your eyes and your guests eyes.
When it comes to catering for your corporate event, party or wedding: we've got the right menu for it, and if you need a state-of-the-art hog roasting machine for one-off use or as a permanent fixture in your kitchen, we've got them.
If you need any culinary tips, advice on how to use a hog roasting machine or if you're curious about what we offer on our menus, then please feel free to either look at the necessary pages on our website or contact us either by phone or e-mail.