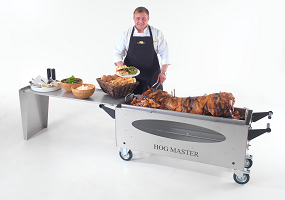 Greetings from hog roast Wexford, in the South East of the Republic of Ireland. If you've never paid us a visit, you might know our town best if you've ever got a ferry across to nearby Rosslare Europort, or if you've seen 'Saving Private Ryan': that's our coastline there on the opening scene!
Venture into the town at any time of year and you're likely to see a buzzing county town where past meets present and urban stands shoulder to shoulder with rural.
There are plenty of idyllic settings for one of our succulent roasts to cast its ancient spell on the senses. Our coastal location and plentiful waters mean fish and seafood is probably more popular here than anywhere else in Ireland.
Our smoked cod is a signature dish…all this makes it all the more satisfying when we see patrons of the boating and fishing clubs looking wistfully out across the harbour with a roast pork roll in their hands.
Wexford hosts the 2012 National Ploughing Championships in September. The visitors to this show (just under 200,000 of them!) especially know their pigs, so they wouldn't settle for anything less than the best quality local animals on which our reputation has been established.
We've also filled the bellies and brought smiles to the faces of hardy spectators at the Wexford Rally, and the scent of our roasting pigs lures even the most gnarled of bluesmen at the annual Blues Festival. As well as catering for these 'marquee events', our bread and butter is serving the needs of our community to offer something that little bit unique for their functions and private parties.
The Best Hog Roasts In Wexford
Hog Roast Wexford prides itself on the unrivalled taste and spectacle of our machines, but we also provide side dishes, salads and party foods to suit all preferences.
For outdoor occasions, the weather is no barrier to a taste-bud-titillating experience; we carry a marquee in the van to ensure that whatever the elements bring, your guests will be spellbound by a roast that looks, smells and tastes majestic.
If you haven't had the pleasure of entertaining guests with us, why not join the hog roast Wexford family and get in touch? We guarantee top quality animals, and of course a friendly, efficient service from ourselves, the catering team.
We not only take the trouble out of feeding your guests, and ensuring everyone gets succulent prime meat which is cooked from fresh as your celebration unfolds; we build our reputation on creating happy memories at reasonable prices.
We have a diverse and comprehensive set of menu options, including specialised Christmas catering, which includes our advanced rotisseries that will banish any notion of dry turkey forever.