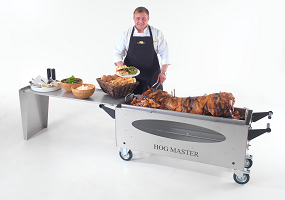 Windsor is famous for its castle and racecourse but there are also other things to do pony trekking in the hills or polo at the Smith's lawn. For history about the first pub built in the 16th century The Three Tuns or the Museum on the History of Wheels.
After you have explored Windsor, how about a Taste the Cracklin hog roast in Windsor? Traditionally pork it can also be beef or lamb or whatever meat you want it. Imagine it is your fiftieth birthday and the lamb cooks on the hog roast machine not only does it look attractive, for charity events it helps to sell tickets. It has become the talking point of your party and the guests agree on trying it, that it tastes as good as it looks.
It could be served with new potatoes and vegetables of your choice and you may also choose to have pre dinner drinks and canapés with a dessert of your choice. Our menus range from hog on a roll to a 5 course meal and we also offer Indian or Chinese starters if required.
We also offer vegetarian options such as lasagne or fish dishes. Our desserts are second to none it could be a cheesecake or chocolate torte.
We also do individual menus tailored to our client's desires to contact us through our website or call us we aim to reply within 24 hours with sample menus and a quote to suit your budget.
We have different sized hog machines for the smaller and larger event and also cater for charity functions and corporate deals for which the hog on a roll makes an ideal breakfast. We also supply everything needed from staff to cutlery so there is nothing to worry about.
Custom Hog Roast Menus In Windsor
Hi I am Telso I wish to talk to you about my my experience of hiring a machine from Taste the Cracklin. I chose  the smaller hog roast machine as it was a smaller party.
My meat was supplied by Taste the Cracklin and I chose pork. They delivered the machine and demonstrated it to me, it only too me about 5 minutes and I had already picked up how to cook my hog.
They then left the machine with me and returned later to collect it when my party had finsihed. The pork both looked and tasted delicious and as it cooked in its own juices it stayed tender.
Another advantage was that due to the cooking process it did not need constant watching. My guests all agreed it tasted lovely I had mine with rice and made my own red wine sauce.
I followed it with a lemon cheesecake made by Taste the Cracklin and it was lovely and tangy. It was a great day my friends enjoyed it and yes I would do it again.
As promised they came and collected it and my friend Simon  booked his own for his mums birthday. I had mine in the garden of the local pub where are you going to have yours.
If you are stuck for venues how about the Mecure Windsor Castle Hotel or a local pub. In Windsor you could try punting, walking or for the kids a trip to Legoland.
The theme park breathes life into Lego and also has theatre shows. For swimmers Windsor Leisure Centre includes giant slides such as Monsoon, a diving ball and more.
Extreme Motion is based on crazy golf, Sphere World is where you chase each other and there also is a Bunjee Trampoline plus more. If the kids aren't tired by now try the Windsor Museum that looks at the history of Windsor and has events for children in the holidays.
How about a look around Windsor Castle followed by a bite to eat you can get anything from English to Nepalese food served at The Hungry Eye. There are over 100 places to eat for pub food try the Two Brewers famous for its grumpy landlord and real ale.
There are over 20 pubs, some serving real ale try The Duke of Connaught that for Thai food and a good pint. So come and visit us soon I will keep the coffee brewing so we can discuss your hog roast and let us make that event special. Hurry I might even save you some chocolate.