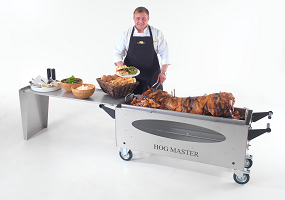 Events come in all shapes and sizes. We know all about that as we do hog roasts on the Wirral Peninsula. And do you know what? There is nothing better than a Taste the Cracklin hog roast on the Wirral.
Since you are reading this blog then the chances are that you have already seen some of the photographs of what it is that we can do.
If you haven't seen them then go and have a look . . . . After you've read this though. The photos will give you an idea of the spread that we can put on for your event. But they can't capture the wonderful aroma of the banquet that we prepare. Nor can they capture what it truly feels like.
Catering a hog roast Wirral event is great fun. Because it is just that . . . An event! We cater for any size of event. No matter what it is that you are celebrating we can do it.
Say you want us to cater for a cosy family party. You've got 30 people coming and the back garden is the place to be. We will come along good and early, because we cook and prepare all our food fresh on site.
Everything we serve is fresh! All of it! We are very proud of this and it means that the food that we serve is top notch. It's not just how fresh it is either, the presentation is second to none. But also the array of food that we prepare. Obviously there is the hog!
Tempting Menus And Maximum Flavour In Wirral
It wouldn't be a Taste the Cracklin hog roast without it. That roasts on a special hog roaster which really looks the part. But there is much more besides.
Apart from other meats there are wonderful salads and vegetables. And if meat is not your thing then we serve a fantastic selection of vegetarian dishes too.
When you look at the photos it makes your mouth water and in real life it is a hundred times better. And we can fit all this in to a corner of your garden. OR if you are wanting us to cater for 3000 we can do that just as well.
Up go a whole string of gazebos and on go the spit roasts. Either way, we love what we do and we go out of our way to be friendly, approachable and helpful.
Yes we do this all the time but we get it that this is your special Taste the Cracklin event and we always go out of our way to make it just that. So, when all is said and done and our part of your day is done then we clear away and clear out with no fuss. Quickly and we quietly we are gone. Like we weren't even there.
Here at Taste the Cracklin, we know a hog roast will make any party on the Wirral special, as we expertly bring bounteous feasts to celebrations all over the peninsula. We put a lot of effort in and we work really hard AND we really enjoy it