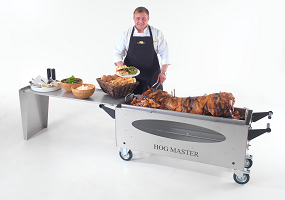 If you want to know where the most delightful party in town is. Well I can tell you that it is to be found at a Taste the Cracklin, the hog roast event in Witney. Slap bang in the middle of the southern English countryside, Witney is such a beautiful town. Famous for its politicians, who know the best food service when they see it.
So, when an event beckons it needs to be done right. Taste the Cracklin are on hand to ensure it's always done right. We cater for all manner of events. From small, cosy get togethers to great, humongous social events of the season, we've got them all covered.
We bring great enthusiasm and experience to all occasions. Whether you need us to set up in a corner of the garden, or whether we are bringing a whole string of gazebos to house our kitchens, we know how best to deliver the food service that will make your day.
And we love it! We always set up early giving ourselves plenty of time to be prepared. As preparation is everything. This is best thing about us, where we really come in to our own.
We cook and prepare ALL our dishes right there on the day. Nothing is pre-prepared outside and brought in and we pride ourselves on this.
Putting A Twist On Traditional Catering In Witney
The Taste the Cracklin hog roast is of course the centre piece of the food service we provide and no hog roast would be complete without it. And what a superb sight it is. But we offer so much more besides. Apart from the selection of meats that we prepare there are beautiful salads and vegetables to go along with the pork, beef, lamb etc.
We also realise that not everyone wants meat and so we also serve an array of vegetarian dishes that are second to none. The smells and aromas at these events are only equalled by the wonderful colours and splendid presentation of the food we serve you.
When you have a hog roast Whitney you are inviting in an enthusiastic, friendly and extremely helpful group of professionals. We take our jobs very seriously but we also have great fun doing them and delivering the absolute pinnacle of excellence when it comes to food service.
And because of this, not only do we make sure that we are there nice and early to get it all done in good time, but when our part of your day is done we clear away and clean up behind ourselves.
We make sure that we do this with as little fuss and intrusion as possible. Once we are away you won't even know that we were there in the first place. Well, apart from the happy full tummies that we leave behind.
One of our hog roast's in Witney can be as grand an occasion as you require. A banquet, a feast of any size. Beautifully trimmed and served with ease. Every party and event is an event for us too.