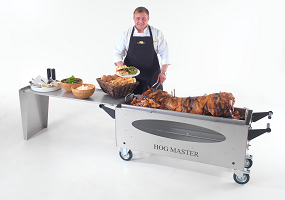 When it comes to providing the very best in terms of bespoke hog and spit roast event catering – there is very little that we don't know here at Taste the Cracklin. Leaders in our field, we place huge emphasis on sourcing our meats well and in an ethical manner.
Hereford and Worcester form a region which is great for both us as provides of hog and spit roast events, as well as being great for those who love eating stunningly great food. Just recently, our wedding and corporate catering events were praised in Bramshill as well as in the lovely town of Evesham.
On the whole, it is clear to see that over the past few years there has been a general shift towards enlightenment in the world of British cuisine. In areas such as Hay On Wye, it is easy to see why the food we have in Britain is changing for the better – and it all begins with the very high quality produce which our farmers create and supply. Where once Britain was seen as a culinary black hole, now we have more cheeses than the French.
Along with that, the great beef and pigs which roam the plentiful hills of Hereford and Worcester form some of the most succulent meats in Europe – you need only look at the menus of some of the top Michelin approved restaurants.
With our hog and spit roast events in Kemerton and Symonds Yat – our clients ave loved and enjoyed every sumptuous minute of their dining experience with us. By using the best produce and using the ancient yet unbeatable method of flame-roasting in our ultra-modern machinery, it is of little surprise that our food is loved Bovingdon.
It goes without saying, the flavours and taste of the roasts we produce are enough on their own to have your guests feeling that extra bit special. Whether its lamb, pork, beef or chicken you desire we have menus that will get your taste buds tingling in anticipation the moment you read them.
A Hog Roast is at the opposite end of the aroma scale. The scent of the meat will have your guests drawn into temptation and once they have smelt, tasted and delighted on the whole experience, they'll be wanting to go again, and again.
Your guests can indulge in this treat in many different ways from complimenting the meat with bread, in a bun, on its own with a side salad or simply on its own. However it is taken, you can be certain it will be appreciated by all.
We offer the whole Hog Roast package, from start to finish, so when required we take all of the hassle of the planning stage away from you. We can be as hands on, or hands off, as you wish.
You can be sure though that whatever and however much we do, our standards ooze quality and class and we will ensure you and your guests go on and tell friends and family about the whole experience.
Planning an event can be a difficult and daunting project with many different things to think about. From the outset, you need to be meticulous in every detail for what happens on the day – good, bad or indifferent – will reflect on you.
From port-a-loos to parasols, seats to speakers, you need to be sure every box is ticked with each one of your guests.A priority of any event organiser is ensuring the guest goes away not only enthused from the day but content that they have been privileged to all round quality. Therefore what they eat and drink is of enormous importance.
Organising a large event taking place in a stately home in the Hereford & Worcester area, I knew exactly what to do as I had experienced the same form of hog roast party a few months before. As any bride or groom will testify, the weeks and months before their wedding are a particularly fraught and exciting time.
With a huge list to work on which my wife gave me, one of my tasks on this list was to arrange a caterer for our reception. It all added towards an even greater time had by us all and the food was that magnificent we even remembered most of our night as the excellent food served to us was provided by the same hog roast caterer at the stag do.
I contacted them a few months before to see if they were free to provide hog roast catering services for my wedding fortunately, they were and I soon had this ticked off my list as I knew a great catering service was to be provided.
The week before our wedding, I was telephoned by Taste the Cracklin and was asked exactly what meat I preferred. I took him up on the offer of all of them. Our budget was not extensive for this portion of the wedding but because the price supplied was surprisingly affordable this meant that a variety could be supplied.
As well as these meats, I had the chance to be provided with salads and fruit juices with waiters and waitresses able to serve canapés before the main hog roast offering and I agreed. Every aspect of the reception was taking into account so this further reassured me that the catering provided would be first-class.
Thankfully, she said yes and my fiancée was now my wife. So, as we headed towards the stately home we had chosen for our reception, we walked into the ballroom and was instantly greeted by a smartly presented waitress who started to offer us all canapés.
As soon as my guests had eaten the canapés, the music began and soon everyone was on the dance floor or were by the bar ordering drinks.
A few minutes later, the DJ announced that the food was ready to be served. A huge rush of people started to queue as those who hadn't already been convinced were by the time that they had smelt what they were about to gorge on. After everyone had their first serving, there wasn't an unhappy face around as huge smiles were on the faces of those who had been given a helping.
It was that popular that I saw many of our guests heading to the food area for another helping as their first was not enough. This wasn't them being greedy; just the fact that they had sampled something tremendous and wanted a further taste of it.
Priory park is a lovely place in which I get to cater events throughout the year, some of the local residents have joined together to welcome the winter in by having a get together in the bonfire evening!
They like to organise a large display of fireworks, a larger than life bonfire, and bands, numerous stalls and little old me of course catering a great meal for the visitors and residents!
I have worked as a hog roast chef for Taste the Cracklin for the past ten years, I consider myself quite the professional when it comes to my trade. I take a great deal of pride in my work and enjoy seeing the satisfaction on their faces as they tuck into a toasty-hot pork sandwich.
It's typical of people to think of seasonal foods like a salad, pizzas and Italian meals in summer and warming casseroles in winter but I strongly believe that a hog roast works wonders all year round.
My personal favourite when it comes to seasons is winter funnily enough, I love warming myself up with a mulled wine and watching fireworks and the smell of sparklers in the air.
I set off early this morning and arrived in great time to see the effort and great community spirit that was put in for a fantastic event.
One young chap asked me where I got my hogs from and I had to explain it all to him, I don't like to give short answers especially if a youngster shows an interest!
We were all young once! My hogs are always locally sourced and meet all the necessary standards as far as slaughtering goes, I like to get hogs that have led happy lives as this comes through in the quality of the meat, he also asked me if he could get the first piece of crackling, I obliged and reserved him a few pieces, cheeky little lad he was!
I like to take the time out to cater all over the area for my customers so Pershore and Leominster is something I like to get involved in I always seem to have people served and satisfied with my cider and sugar injected hog roast in plenty of time to ensure everyone is more than happy.
I got chatting when I was beginning to de-set me machine and stall when I got chatting to a lady who works for an organisation that preserve Malvern water, it turned out the I was working in a spa town, with queen Elizabeth II being the ambassador for the water that famously contained 'nothing at all' she actually would travel anywhere without it in a bottle.
The water here was eventually picked up by coca cola and bottled by them and sold in massive quantities. Anyway this lady was keeping me occupied with excellent local knowledge of Malvern.
I think I'll come back in the summer for a visit and a dip in the local pool as its quite a refreshing experience, I'm not sure that I could think of doing anything worse at this time of year, I can't wait until my next job.
Standing next to a hog roast machine for a few hours is my idea of heaven when Jack Frost makes an appearance this time of year!