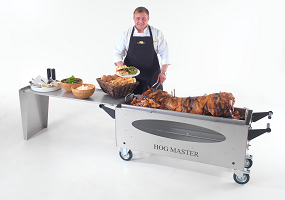 Oh I do like to be beside the seaside. Oh I do like to be beside the sea . . . . And that's not even the best thing about Worthing. Worthing is such a lively town and so much has and does go on here.
I just found out that Oscar Wilde wrote The Importance of Being Earnest here. I'm no Oscar Wilde or Harold Pinter. But I am going to enthuse about how much I love providing hog roast catering to parties in Worthing with Taste the Cracklin.
Working for Taste the Cracklin can be hard work and great fun at the same time. We deliver an exemplary service. With lots of colour, aromas and tastes to tantalise your senses.
If you have not been to a hog roast provided by Taste the Cracklin, you may be quite surprised to learn that we do more than roast pork. A lot more.
The centre piece of every hog roast event is, of course, the great Taste the Cracklin experience with a full hog, slowly roasting on its spit. It is very impressive and the smell will drive you wild. But there is much more that I guarantee will make you're mouth water.
There are many meats on the menu besides pork and an array of wonderful salads and vegetables to accompany those main stays. But we also realise that not everyone wants meat and so we also prepare superb vegetarian dishes that go down very well.
Talking of preparing. One thing about the food service in Worthing that really sets it apart is that we prepare and cook all our food on site. All of it! Everything!
Because of this, we turn up nice and early to get things under way. Preparation is everything. And it really shows in the food that we serve. I tell you what . . . the deserts are fantastic!
Hog Roast Worthing Catering Solutions For Your Event
Presentation is key. As they say, "we eat first with our eyes" and you will not be disappointed here. Being a Taste the Cracklin caterer providing customers with the best hog roast here in Worthing is not just about cooking food and serving it up on a plate.
It is about delivering a smooth, efficient and professional service that will make your day. This is your event. Your party. Whether it is for 30 or 3000 we take our commitment to excellence very seriously. And so we go out of our way to be helpful and friendly and to have fun and enjoy ourselves too as this comes across in the service we give.
The other thing that we are really good at when we are doing a hog roast party, is getting out of your way. We bring everything we need with us and when our part of your day is all done, then we clear away and clean up efficiently and without any fuss or bother.
We make sure that we do not intrude on your celebration. It will be like we weren't even there. Except, of course, there will be a party full of full happy tummies.