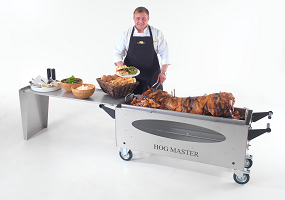 Wrexham is a lively town which has grown up over the centuries as a result of hard toil and innovation. And where you find hard toil you find people who know how to enjoy life. Parties and celebration go hand in hand with work in this town that was a pioneer in the Industrial Revolution. And that has not changed.
The best celebration to be found in these parts is served up every time by Taste the Cracklin's hog roast team in Wrexham. They're like nothing else you will experience.
The idea itself conjurers up images of banquets and feasts with a great roast pig at its centre. Well that is not far off. There is, of course, a great hog roasting on a spit at the centre of our food service. A party would not be complete without it. And it is an inspiring sight.
Oh! And the smell!! Its enough to drive you wild. But there is so much more to what we do than pork alone. When you are at a hog roast party in Wrexham you will find yourself transported to a heavenly paradise of food.
This is because we really know how to prepare. We prepare and cook everything, and I mean everything, right there on site. That is our way absolutely nothing is made elsewhere and brought in. The smells and aromas from our cooking area are magnificent.
Now it makes no difference whether we are setting up in the corner of a garden for a small cosy family affair or whether we are building a row of gazebos to house our kitchens for an huge event, we bring the same level of skill and service every time.
And we will always bring the same magnificent array of food to every Taste the Cracklin hog roast event in Wrexham.
The Best Hog Roasts In Wrexham
There will be pork as well as other fantastic meats such as beef and lamb. To accompany these we serve wonderful salads and vegetables and fabulous deserts too. The beauty and effort put in to the presentation is astounding.
We also understand, even though we roasting hogs in Wrexham there are many people who prefer not to eat meat and so we also serve superb vegetarian dishes. There is always something for everyone. And it is always something special. Great service is at the heart of every Taste the Cracklin party.
We take a great pride in the service that we provide. We work hard and love our jobs and this comes across. We go out of our way to be friendly and helpful as well as supplying you with great food. Which is why when our part of your day is over with we clear up and clear out without any fuss or bother.
We go out of our way to make sure that we do not intrude on your party. By the time we leave it will be like we weren't even there. But there will be a guest list full of happy fully fed people.