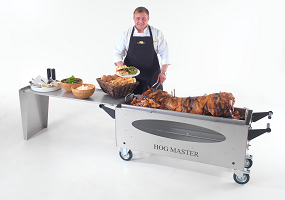 The Tudors have certainly left their thumb print on Yeovil. And I think that they would be proud of the new interpretation of an old Tudor tradition and notorious way of Tudor life.
The banquet! Taste the Cracklin hog roast in Yeovil is exactly that. Banqueting for the 21st century. We do exactly what we say in the name. We roast hogs! And we do so much more besides. When you have a hog roast you get the full feasting banqueting treatment.
We cater for all sizes of events. From cosy family parties to great huge events for thousands. And we deliver the same enthusiastic, expert service no matter what size of hog roast party you are having in Yeovil.
Whether we are setting up in a corner of your garden or whether we are putting up a great string of gazebos to house our kitchens and staff at a massive event, there is one thing for certain.
Everything that we will be serving will be fresh. Yeovil hog roast takes a great pride in this fact. All the food that we prepare and cook is right there on site. Nothing is made and brought in. And it really shows.
The food we serve is second to none. Not only in freshness and flavour but in presentation as well. At Taste the Cracklin, the array of food to choose from is wonderful. There is, of course, the hog roasting on the spit. And an impressive centre piece it is. And how good does it smell??
But there are many other meats at this feast too. And they are served up with beautifully fresh salads and vegetables to go with them. We also know that not everyone wants meat and so our vegetarian dishes are fantastic, just like the rest of the spread.
The Best Hog Roasts In Yeovil
We really do cater for all tastes. Mmmmm, and it really is the tastes, colours and textures that make a feast a banquet. We go out of our way to make it fun and friendly. We make a great effort to be approachable and helpful.
To ensure that your party goes off without a hitch. Unless getting hitched is the order of the day. We wouldn't want to get in the way of that. Since everything we serve is fresh, we need to set up early before the party starts. This way everything is ready in good time.
We bring all we need with us and when we are done we clear it all away again. We make sure that we do this without any hassle or fuss so as we do not intrude on your celebration at all.
We will do all that we can to make sure that all tummies are full and happy and then when our bit is done, just disappear like we weren't even there. A hog roast in Yeovil is a cracking affair. A riot of colour, aroma and taste. And we hog roast Yeovil caterers love it!