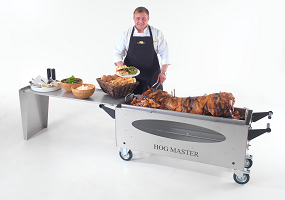 If the cold winter days and nights are making you feel a little depressed then there can be no better way of giving yourself a little inner glow than by imagining yourself tucking in to a lovely roast dinner.
Roast dinner is a favourite for millions of people in the United Kingdom and the people of the fine old city of York are no different. What could be more traditional than a great British roast in one of the greatest British Cities?
Well what about a great Taste the Cracklin hog roast in York meal served by a quality chef? Now that does sound good.
Luckily for the folk of this ancient city, York has it's own Taste the Cracklin chef ready to cater for any special event where there is a need for traditional, great tasting, freshly roasted meat. And in hog roast, you simply cannot get more traditional or great tasting.
It is the perfect solution for any type of special occasion in York, whether it is a wedding where you want an exciting change from the usual meal options or a corporate event where you really want to put on a bit of show for your special guests. How about celebrating that big birthday with a big roasting pig or how about a Christening 'do' to remember?
Taste the Cracklin catering is a fantastic solution for any event and it is one that really liberates you from the stress and anxiety of looking after the catering yourself.
Nobody likes the hassle of having to look after cooking and serving of food at a big event, especially if you were hoping to enjoy the event yourself or socialise with friends or important guests.
With our chefs and catering team, it is all taken care of to every last detail, so you can look on as your guests are treated to probably the best special occasion catering that they will have had in years.
So what work goes in to a Taste the Cracklin hog roast in York that makes it so special? Well, the great tasting food really makes these events stand out and that is a combination of superb meat and slow roasting.
it really is in a different class to standard, boring catering, so much so that you may never look back once you have sampled it. The meat alone is chosen very carefully with the chef only ever using excellent quality, locally sourced pigs for each roasting and this is something that you really can tell. It is succulent, tender and super tasty.
The cooking helps, of course, and when you slow roast a pig for six hours, it is no wonder that it ends up tasting so utterly wonderful.
Our team know what makes a great event and our party, corporate and wedding options ensure that you get the very best hog roast to meet your needs. It's affordable, it's tasty and it's very impressive.
If you want to really delight your guests with great food, a traditional York hog roast is the perfect solution.
So I hear you ask; what is it like to be a chef for Taste the Cracklin?
Well to answer this conundrum, let me firstly tell you a little bit about Taste the Cracklin and the surrounding area which we cover with our hog roast and spit roast services…
York has a population of 182,000, Guy Fawkes of bonfire night fame was born and educated in York, Dick Turpin was caught and executed here, New York City and State were named after the Duke of York James Stuart which is the title given to the monarch's second born son, we have Northern Europe's largest Gothic Cathedral, York also rhymes with pork!
But more important than all of these facts put together are York's passion for pig, its love of lean meat and it's bonkers for a BBQ!
Here at Taste the Cracklin, offer a huge selection of food to suit your event, unlike a lot of catering with us you're the boss!
Options include; pork with apple sauce, stuffing and crackling, chicken with sage and onion stuffing, sirloin of beef with horseradish sauce, turkey with cranberry sauce and lamb with mint sauce all cooked on a spit roast accompanied by either an informal bread roll to make a seriously good butty or with accompaniments such as; side salads like waldorf, caesar and thai, lovely warm new potatoes, crispy potato wedges and creamy potato salad.
It makes me hungry just typing it!
We cover the set up, provide our own well trained and helpful staff, bring napkins, plates and either real or disposable cutlery, we clean up afterwards (bonus!) and you can hire a gazebo or three if the weather can't be relied on, after all this isn't Australia, the birth place of the hog roast!
We have been hog roasting for many years and catered for weddings, christenings, birthday parties, celebrity bashes, sports events, corporate events, formal sit down meals and informal buffets with a pork bap and a bar!
If you are looking for something more 'high end' for your occasion we can offer a champagne drinks reception arrival, canapés to compliment the hog roast and even bar hire for a real good knees up.
Hog Roast York– Great Food For All Occasions
You can even hire our Taste a Cracklin spit roasting machine from us and be your own chef anytime of the year, even in the winter months the spit roast machines are built to endure the weather and all your guests can huddle around the warmth of the spit roast or sit and sunbathe in the summer soaking up the atmosphere and that unforgettable aroma of roast pork drifting through the air.
We will deliver and collect the machine, include a bottle of gas and don't worry we will give you a demonstration if you are not a confident cook.
Recently we catered for a huge jockeys, owners and trainers summer party for York Race Course, also known as the 'Ascot of the North.'
They were looking for something more unusual than the corporate sit down meal or standard buffet with your usual suspects, sandwiches, samosas and sausage rolls which many people have tired of over the years; Taste the Cracklin definitely have a real sense of theatre.
With 500 hungry mouths to feed the pressure was on to make sure everyone went away full and satisfied so we provided a range of spit roasted meats from the fail safe hog to the traditional lamb and sirloin of beef for the discerning diners amongst the equestrian crowd.
The team arrived in plenty of time to set up the spit roasts, bars, gazebos, tables, chairs etc it was a big job but we are a crack, or should I say 'crackling' team of seasoned professionals and it all went well.
The meat needs several hours to cook but this is only a good thing as the smell of the pig in particular wafted around the crowd getting everyone in the mood for some food. I'm just glad the race horses weren't too close by to witness several of their cousins on the spit!
The weather held up for most of the day but being Yorkshire there was the customary mid afternoon rain shower, the gazebos certainly came in handy.
Nobody seemed to mind even when their heels started to sink into the turf (and that was just the jockeys!) this could of course have been something to do with the three bars that they hired from us and champagne drinks reception on arrival!
I think it is fair to say that some of the best memories most people have of their school days is of those trips out to places mum and dad were unlikely to venture and, let's face it, to places that you were not particularly bothered about going to either.
Whether it was on the train or on one of those seemingly endless coach journeys, the day trip out of school was a highlight, even if it did simply mean a day without lessons!
One popular destination for school trips was always the city of York.
The teachers simply could not go wrong with York as far as the children were concerned. Loads of historical interest, fascinating buildings, plenty of shops and even a few ghost stories. If you were going to make the most of a day out of school then York was almost certainly one of the better options that could crop up.
York is actually a fascinating place. There is a tangible sense of history in the heart of York, whether it is around York Minster on amongst the many narrow streets and wonderfully preserved buildings.
And then you can quite easily forget that you are actually at the heart of a city which is home to nearly two hundred thousand people.
Whilst a lot of York has moved on and does not dwell on its history too much, some people in the city are actively going back in time to raid history for one its more tasty and enduring culinary creations.
You see, that Medieval feast they call the hog roast is making a bit of a twenty first century comeback here in York and it is proving to be a very welcome return, a bit like one of the city's ghosts but this York ghost is a welcome visitor from the past.
If you're ready to learn more about what we do, then you can call or contact us through the website.