Now that spring is here, and the weather is finally starting to pick up, we're noticing that a lot of our clients are beginning to take their events and celebrations back outdoors once again! And just last week, the team here at Hog Roast Aldershot were hired to provide one of our sumptuous spreads in honour of Lily, who is set to celebrate her 10th birthday at the end of the month.
To mark the incredibly special occasion, Lily's mother, Abigail, has eagerly enlisted in the help of our catering team, who are, as always, very excited to be included in the affair. With lockdown restrictions set to ease from the 29th of March, Abigail has fortunately been able to invite members from another household to join in on the festivities – meaning that when the time comes, Hog Roast Aldershot 's catering crew will have 12 mouths to feed.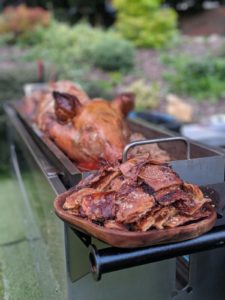 Over the phone, Abigail went on to explain that as well as a traditional hog roast feast, she would also like us to include a meat-free option on the menu for her sister in law who is vegan. We let her know that this would be no problem at all for us, as we can cater to a broad range of dietary preferences with complete ease. The client was so pleased to hear this, and from our selection of meatless favourites, she opted for the ever-popular, BBQ pulled jackfruit option, which features slow-cooked jackfruit, smothered in hickory BBQ sauce that is then packed onto gluten-free baps with a side of crunchy coleslaw.
Striving to keep things as simple and relaxed as possible, Abigail has asked that her chosen dishes be served in the style of our Gourmet Delivery service so that the food can be kept aside until everyone is ready to eat. Hog Roast Aldershot is more than happy to follow this request and we can't wait to wow Lily, Abigail and their guests with our trademark hog roast, complete with all the trimmings.
With us involved, Abigail's intimate, garden party celebration is sure to go off without a hitch!