This summer, Olivia graduated university with a history degree which she was incredibly proud of and couldn't wait to celebrate. However, while planning her graduation she couldn't decide who she wanted to invite. She wanted to celebrate with her friends from home, her family, her roommates and her friends from her history course. Therefore, she decided just to have a huge party a few days after with her all of her friends and family.
However, after acquiring a massive debt from university, she didn't want to spend a huge amount of money renting out a venue. She decided to hire the Taste The Cracklin team to come around to her parent's house to provide a brilliant selection of freshly prepared food for her guests. She invited all of her guests so she could celebrate her and her friend's achievements together.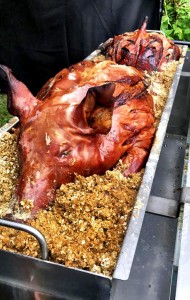 On the evening of her party, the Taste The Cracklin team set up in Olivia's garden and began cooking a great selection of food for her guests. As Olivia's party unfolded a the combined heat, flames and scents of the Hog Roast mixed with the music, a brilliant atmosphere was created. The team served up their Hog Roast which Olivia's guests thoroughly enjoyed and ensured that there was more than enough food to go around.
The team did a fantastic job of producing a small buffet for an intimate celebration between Olivia and her friends and family. She thoroughly enjoyed her graduation party and it set the tone for a fantastic summer and to the start of her new career which she was passionate about pursuing. She thanked the Taste The Cracklin team endlessly for their efforts in the garden working under the burning sun as they did a fantastic job. The Hog Roast team was also a great choice for Olivia because they provided just the amount of food she needed and kept the buffet fresh despite the summer heat. In addition to this, they provided a great price for Olivia who needed to monitor her spending carefully due to her university debts.