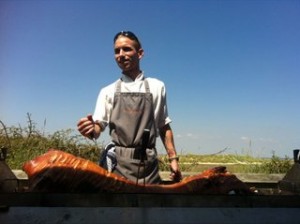 It never ceases to amaze me how creative the British people are when it comes to combating the all too predictably bad weather that seems to be a permanent resident of these shores. Never more was this illustrated the other week by a friend of mine who was hoping to celebrate her 40th birthday at a local church hall.
With only two days to go, the hall suffered a serious leak during a bad rainstorm and the event had to be cancelled. This was a disaster as it was really too late in the day to organise anything else. The caterer (hog roast of course) had already been booked, so where to hold this momentous birthday. Then my friend came up with a rather unique and unexpected suggestion: a boat! It seems that a friend of a friend knew someone who owned a large moored boat and was quite happy to rent this for the odd event. It was not a millionaire style yacht but it was as good as anything.
Amazingly, it proved to be a brilliant evening and of course the hog roast went down an absolute storm. We had the hog roast caterer parked on deck whilst everyone was chatting, eating and dancing away. It really was a great night.
So what's the moral of my story? Well, never give up when it seems like all is lost. Hog roast is one of those few catering solutions that seems to work everywhere and it most certainly did great on this occasion. For a great Hog Roast Bristol my friend really could not have hoped for more, so if ever you come against a problem like this, always bear in mind that there really is nowhere that hog roast can't be served. You could say that is a bit of an old sea hog!