Last week the Taste The Cracklin team met an inspiring lady with a great concept-at the age of 65 and bored of retirement already, Ruth decided to turn her hobby into a new business venture by opening her own 'make your own' jewellery store! Having been making her own jewellery in her spare time for years, her hobby had become a lot more serious since leaving full time work and as she got so much pleasure from making necklaces and bracelets for all her friends and family, she decided it would be great if she could help other people to do it too! So, Ruth came up with the idea of opening her own jewellery store, but with a twist- she would let her customers design their own perfect item and then help them make it themselves from her ample supply of beads, chains, and ornate, dangly adornments!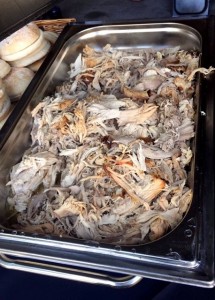 Ruth wanted to throw an official launch party and being creative souls ourselves, she asked Taste The Cracklin to provide the food! She also didn't have a massive budget for the catering, as most of it had gone on stock and the rent for her new retail outlet, but hiring us allowed her to provide great food to her prospective patrons that was also superb value for money, especially considering the quality of our ingredients!
Besides her husband and kids, we had the honour of being the first people to see Ruth's new enterprise before it opened, as we always arrive several hours before the event is due to take place to give us ample time to prepare everything from scratch at the venue. The store was bursting with inspiration for any budding jewellery-maker and we were sure everyone would love it! It was also bursting at the seams with stock, but as we always bring the best hog roast machine for the space and occasion, our compact equipment fitted in just fine, without causing an obstruction or anything having to be moved.
When the doors opened, Ruth's curious clientele were met with the glorious smell of slow roasted pork and the Aladdin's Cave of treasures that lurked within! We greeted everyone with a hearty hog roast sandwich before Ruth got everyone involved in designing and constructing their own jewellery. It seems Ruth's quirky concept is going to be a big hit and Taste The Cracklin were glad we could be there to provide her patrons with such a tasty welcome!