With the UK currently in lockdown, it means that we don't have access to usual conveniences and entertainment such as bars, restaurants, clubs, cinemas and other leisure activities. Because of this, it can be hard to come up with fun and exciting date night ideas to spend quality time with your significant other. If you have a date night or anniversary approaching, Hog Roast Bideford have the perfect solution for you… our gourmet meal delivery service!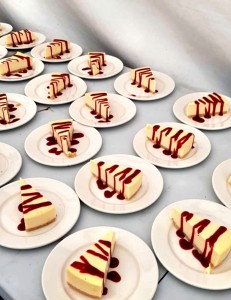 The first step to ordering delicious meals delivered straight to your door is deciding which dishes you want to eat. Some of our most popular main courses include spit-roasted pork with all the trimmings, juicy beef burgers, and roasted halloumi and vegetable skewers served with fresh salad. We have a dish to suit any dietary requirement including vegan, dairy-free and gluten-free.
You can simply order main courses, or you can add on starters and desserts to your order. For a luxury date night at home, why not add on a few desserts to share? This makes an excellent weekend treat and is perfect for a special occasion. We offer a variety of dessert options, such as profiteroles, cheesecake, summer pudding and fresh fruit salad.
Ordering your meal delivery is very straightforward and we have our Hog Roast Bideford customer service team on hand to help with any enquiries. Once you have decided on your menu, all you need to do is book your delivery slot to have delicious meals dropped off at your doorstep!
We sort the food- but the rest of the night is up to you! Some great options for entertainment at home include arts and crafts, movies or box sets, pamper nights and enjoy some drinks together. Lockdown doesn't have to stop you from having fun within your household!
To book your gourmet meal delivery service, simply get in touch with Hog Roast Bideford and let us know your date, location and menu choices. This service is available across the county, for friends, families and couples that live in the same household. We hope to hear from you soon!