In June, after an amazing six years together, Marcus proposed to Phoebe after a lovely meal in a small town on the south coast of Spain as the sunset over their restaurant. Yet after announcing the amazing news to Phoebe's parents, they were very upset they hadn't been there to witness it and insisting on throwing an engagement party to celebrate.
With Marcus and Phoebe not exactly the partying type, they wanted to keep the party small yet they didn't want to disappoint their guests. After searching the internet for days, Phoebe's mother found Taste The Cracklin when she came across their fantastic food photos and hired them as soon as she gained the couple's approval. She then booked the local community centre for their venue and began making last minute preparations for the party.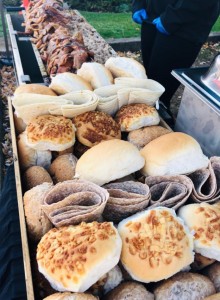 As the evening of the party approached, the couple prepared glasses of wine to be served upon entry and put up the last minute decorations. The Taste The Cracklin team set up in the courtyard outside the main doors and began their hog roast for all their guests to delightfully discover on their arrival. The couple's entertainment for the night, a local band, set themselves up in the corner and began their playlist as all the guests arrived on time. They enjoyed a delicious buffet freshly cooked by the hog roast and a fantastic memory was created for the newly engaged couple.
Taste The Cracklin was a great choice for Marcus and Phoebe as they were already preoccupied planning their fast approaching wedding and as they had just purchased their first house which restricted in their budget. Taste The Cracklin provides delicious slow cooked food with a variety of side dishes to accompany the hog roasted meat. They provide a great friendly service and ensure their service fits the atmosphere that you desire for your event. No matter how many guests you are planning on inviting they will always be able to cater for them all and work under pressure. This made the Taste The Cracklin team perfect to Marcus and Phoebe's engagement party.