With Taste the Cracklin at the helm, your next party or event will certainly be a resounding success in terms of the food. We use fresh, locally-sourced, high-grade ingredients to make our dishes and you really can taste the difference. Whether you're planning on asking us to serve a traditional hog roast centrepiece as part of a meal with your choice of seasonal vegetables, select potatoes and our homemade onion gravy or made into heaven-sent pigs in buns instead, your Taste the Cracklin hog roast will be the talk of the town and a sight for sore eyes, let alone a treat for both your taste buds and your nose.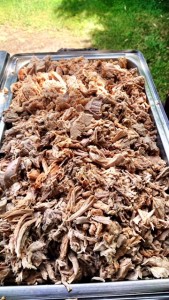 Nevertheless, we're not only known for our delicious hog roasts; we often cook meat alternatives, like spit-roasted lamb, beef, turkey or chicken, or barbecued sausages, burgers and ribs. We can provide a three-course meal, a couple of meat dishes with hot or cold sides or a posh banquet preceded by delicate handmade canapés. Plus when it comes to catering guests' special diets, just let us know your needs in advance and we will ensure that they are just as well-fed as everyone else invited. We simply want everyone to enjoy our food, regardless of preference, diet or appetite.
Taste the Cracklin was delighted to be asked to cater a charity event at a community hall recently, where organiser Lou had asked us to prepare, cook and serve a simple yet sumptuous menu of our pigs in buns and vegetarian skewers for the main courses, to be enjoyed alongside several huge bowls of our crunchy homemade coleslaw and several Greek salads.
On the morning of the function, our chef and catering assistants arrived several hours before service and cracked on with preparing the meat. We took along two large pigs as 150 to 200 people were expected to attend and once they were sizzling away, we just needed to keep an eye on them. Later on in the day, we freshly prepared and grilled the halloumi and vegetables for the skewers, made plenty of coleslaw and Greek salads, and by 1pm, we had a magnificent feast ready to be served to the hungry hordes.