Turning fifty is a milestone event in people's lives and understandably provides cause for a celebration with family and friends. Last Wednesday we were catering for one of our most loyal clients Mikes fiftieth birthday. We counted and over the last ten years Mike had hosted or been invited to over one hundred Taste The Cracklin's Hog Roasting Evnts, ever since he first got the hog roasting bug when he turned forty! For such a milestone event and a milestone achievement, in our eyes, we knew we had to prepare a standout hog roast.
Although somewhat of a hog roasting connoisseur Mike had never actually tried our new Taste The Cracklin's Southern Slow roast menu so we knew it would be a show stopper for him. With the choice of three different slow roasted meats each with their own special marinade and secret recipe rubs, not to mention a vast array of accompaniments we knew Mike would find this menu irresistible.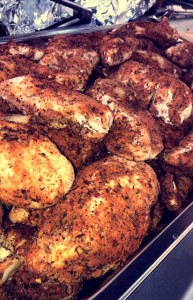 When we arrived at the venue we got to work preparing Mikes meats of choice that included whole Cajun spiced spit roast chickens, Creole pulled quarter of spiced lamb and finally some Louisiana sticky pork ribs that simply fall off the bone. As all our meats are roasted low and slow to pack in the most flavour the meat is always so succulent and melts in the mouth upon tasting. For the accompaniments there was Mikes all-time favourite coleslaw that our Chef makes himself from scratch, alongside corn cobettes that we smother in butter and of course a selection of fresh salads that we create using local produce.
When serve time arrived we were on edge as Mike came over to give everything a try. First in line as always, he joked giving us a stern look like the seasoned Taste The Cracklin critic he has become. Similar to when you order wine at a restaurant, and the waiter pours one glass first to ensure the taste is suited to you before pouring the rest, Mike was sampling all of the food before beaming and encouraging all the guests to come and grab some. They didn't need telling twice!