Here at Taste The Cracklin we can cater for any type of event whether that's a wedding, private party or even a corporate meeting – we can do it all. Last week we were invited to cater at some of our old clients and friends 5oth anniversary party. It was to be just a small gathering of family and friends to celebrate the last fifty years of June and Tony's married life and they wanted some delicious food to go with it!
We set off bright and early to prepare for a twelve o'clock serve time as a hog can take many hours to roast – they don't call it slow roasted for nothing! With the hog we prepared a selection of our finest accompaniments such as a sweet homemade applesauce and fluffy roast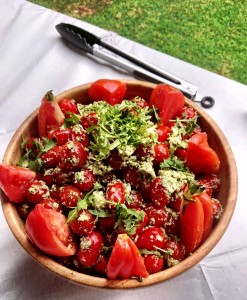 potatoes that we serve with a garlic butter. We also had to prepare some gluten free rolls as a number of the guests had dietary requirements, but this was no trouble for Taste The Cracklin, our cooking style is so flexible that we can cater for all needs. June also informed us that a couple of the guests were vegetarian and so we needed to make them feel welcome too by creating the most delicious vegetable tart which we served with haloumi and mushroom skewers. In the summer months most of our clients like us to prepare some seasonal salads as we find they go perfectly with a hog roast. We created a crunchy green leaf salad packed full of nutrients and a scrumptious tomato and mozzarella salad. With everything prepared all that was left to do was serve the guests…
Everyone loved the food and we found many of the guests coming up for seconds which is always a good sign! June and Tony were thrilled with our service and guaranteed us that they would be in touch next year for another Taste The Cracklin when they celebrate their fifty-one years married!