Taste The Cracklin had a great day recently and a trip down memory lane when we were asked to provide some of our fab pork for an interactive retro-gaming exhibit at a local museum! This nerdy nostalgia fest was aimed entirely at adults who were children of the Amstrad and Commodore era and the museum had decided to give everyone a real treat by putting on an interactive exhibit of computers and consoles of days gone by and giving people the freedom to actually play on them! As if this wasn't a mouth-watering enough prospect, they museum also decided to hire us to keep them refuelled throughout the day!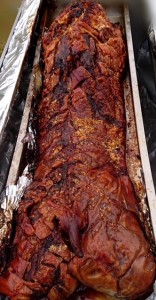 The exhibit was unsurprisingly sold out and we couldn't wait to get into the thick of things! Here at Taste The Cracklin we love catering for big events and demonstrating our dexterity when it comes providing several hundred people with great food and great service! As the pork was nearing completion, the exhibition room started to fill up rapidly, with a wide range of visitors from all walks of life, but all of whom had the same look of childlike glee in their eyes as they eagerly rolled up their sleeves, flexed their trigger fingers and started playing their favourite computer games from their youth!
Our serving table was flocked to with just as much enthusiasm, as the tempting smell of the meat lured people away from their screens and joysticks to fill their rumbling stomachs with a hearty dose of slow-roasted pork and crispy crackling! Our friendly- and self-confessed gaming nerd-Chef loved chatting to all of our diners about their favourite games as we served them with our usual pleasant efficiency.
It was lovely to see the grown-ups having fun for once, rather than patiently enduring something their kids wanted to do and most people told us it was the most fun they had had in ages! We were also told by many of the people who had the pleasure of trying our hog roast, that is was the best food they had eaten in ages too! We're glad everyone had such a good time reliving their youth and enjoyed Taste The Cracklin's food so much too!