It was helmets, hammers and drinking horns aplenty last weekend when the Taste The Cracklin team found ourselves caught up in the middle of a Viking invasion! No, we hadn't travelled 1000 years back in time- we were catering for an annual Viking festival! It wasn't the first time we had been here, so we knew what to expect, and it was great fun as always! Whilst our increasingly diverse and modern menus make us appeal to a broad range of clients, we always have and always will be the number one catering option for celebrations that have some kind of historical theme, partly because the art of hog roasting itself is so ancient, and partly because we do it so well!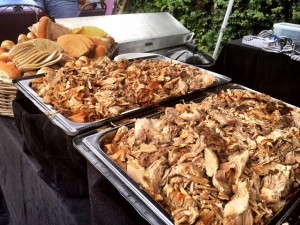 With the beer flowing and the hog roasting, the Viking enthusiasts couldn't have asked for a more authentic experience, especially as everyone had made such an effort with their costumes! It was a brilliant atmosphere and we were thrilled to be a part of it for the 4th year running.  Our Chef may not have been able to wield Thor's hammer, but he certainly wowed the crowd with his knife skills as he carved 75kg of succulent slow-roasted pork in front of the very impressed crowd!
Taste The Cracklin's traditional cooking method and superb locally sourced pork proved to be a winning combination with the Viking hoard who invaded our serving table! Our side orders of seasonal vegetables and buttery new potatoes went down equally well, with almost everyone coming back for seconds. Odin, the Almighty himself (well a bloke with a big beard and an eyepatch anyway!) even came back for thirds! Because our hog roast machines have the capacity to cook large quantities of meat in one go without compromising on the flavour or texture, we can easily handle feeding more diners than anticipated or people coming back for more-in fact we welcome it because it shows how much everyone loves our food!
It was a very rowdy party, but all in good fun and the Taste The Cracklin team always enjoy feeding a field full of Viking with our traditional, hearty fare!