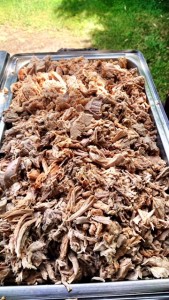 The Taste The Cracklin team enjoyed a very pleasant and educational day out in the woods last week, when we were asked by a local birdwatching society to cater for their 40 members' annual get together! The great thing about the way we cook, is that we can be at one with nature, whilst providing restaurant-quality food for people, and this is exactly what the avian enthusiasts wanted, which is why they hired us! Their July gathering had been taking place for the past 4 years and usually they brought their own food, but it was always a pain having to lug it into the woods along with all of their binoculars and cameras as well, so they decided this year, they wanted someone else to do it for them. But what catering company would be willing and able to trek into the woods with them and cook up a fabulous feast? At first, they though a hog roast would be out of the question, as they believed they were only suitable for big events like food festivals, but as with so many of our clients before them, Taste The Cracklin proved them wrong!
They told us we were the only catering company they had found who could offer them everything they wanted and more and they couldn't wait to try our food! Having done a lot of indoor events lately, we couldn't wait to spend a day cooking in the fragrant forest air either! We transported and set up our hog roast machine at the site they had picked with ease and wasted no time in getting the slow-roasted pork underway. They were very impressed with our portable set up and as soon as the aroma of the sizzling pork hit them, they knew they were in for a treat!
Apparently, this particular part of the woods was their favourite because it seemed to attract the most interesting and hard to spot birds in the area. They weren't wrong, and we enjoyed learning about the different species as we worked on their freshly prepared woodland feast! After a very fruitful morning with plenty for them to talk about, we were ready to serve the birdwatchers their best picnic ever! They all loved the food and thought it was wonderful that Taste The Cracklin was able to provide such an amazing spread in their favourite forest setting!