Graduating from university is always a reason to celebrate- but even more so after over a year of virtual learning. Many universities are also choosing not to host in-person graduation ceremonies which can feel like a dull ending to three years of hard work. Because of this, many families across the country are choosing to host private graduation parties to give students the ending that they deserve.
Taste the Cracklin was asked by the Dawson family to cater for their private graduation party that they were hosting in their back garden. Their eldest son had graduated a few years prior and celebrated with a large graduation ceremony that their daughter was now not able to have due to government restrictions. Because of this, they wanted to host a fun and exciting DIY 'ceremony' at home to ensure she had a great celebration for earning her degree.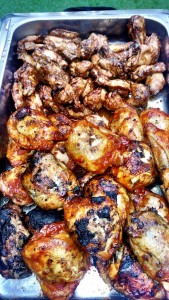 The event required buffet catering and the family chose our Taste the Cracklin BBQ menu since it has a large variety of dishes and is one of our most family-friendly choices. This menu consists of many grilled meat options, including beef burgers, sausages, kebabs and ribs- amongst others. We serve this menu with a selection of salad and potato dishes. This creates a versatile menu that can be enjoyed by all, including younger guests.
On the day of the party, the sun was shining and the atmosphere was perfect for a summer BBQ. Our team arrived before the guests to begin preparing and cooking the dishes. This included grilling the meats, cooking the home style fries and making the salad dishes. We set up our catering and buffet station outside for ease, as this is where the guests would be enjoying their meal.
The family ensured they gave their daughter a graduation ceremony to remember, even if it wasn't the one they were expecting when she started her studies 3 years ago! Our Taste the Cracklin catering was a great success, with every guest getting plenty of delicious food to enjoy.