As government restrictions are easing, this means a return of freedom for many people. However, those that are considered 'at at risk' may still be required to shield for their own safety and avoid public spaces. For these people, birthday celebrations are limited to things that can be done in your own home. One excellent suggestion is to order a gourmet meal delivery service from Hog Roast Taste the Cracklin, with our contact-free delivery!
After struggling with physical health for the last 10 years, Ryan was all too familiar with the health concerns associated with COVID-19. When the country first entered lockdown in 2020, Ryan was asked to shield by the government and, 12 months on, he is still required to shield with his household. Rather than letting this hold him back, Ryan and his friends have been discovering new ways to socialise, including virtual escape rooms, quiz nights, and online bingo. For his birthday this year, Ryan decided to host a virtual party with his household, enjoying our delicious Hog Roast Taste the Cracklin gourmet meal delivery service.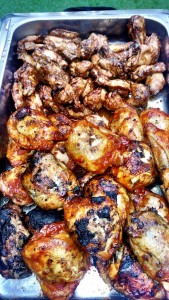 For the catering, Ryan decided to order main courses and a selection of desserts to share with his household. They ordered a variety of main dishes, including British beef burgers, whole-roasted chicken, slow-roasted pork, and BBQ jackfruit. The mains were served with a selection of potato dishes and salad options, to create a variety of nutritious and delicious meals. Following on from the main dishes, they enjoyed profiteroles, sticky toffee pudding, cheesecake, and summer pudding.
On the day of the virtual event, Hog Roast Taste the Cracklin provided our meal delivery service via our contact-free delivery service. We arrived within the allocated timeslot, providing our delicious variety of meals to the household.
Our gourmet meal delivery service is available for events across the country. It is a great way to enjoy some delicious food from the comfort of your own home, without requiring a team of caterers. To book your meal delivery service with Hog Roast Taste the Cracklin today, simply let us know your chosen date, location and menu and we can get you booked in!