Wedding catering is never the same for any two receptions since every wedding is entirely unique. Our catering packages come in all shapes and sizes, with many different dishes and catering styles on offer. Catering can also vary by formality, with some receptions preferring a formal style. Here is one example of formal wedding catering that Taste the Cracklin can provide…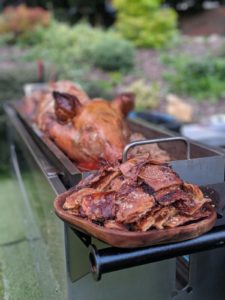 Traditional wedding catering is available for receptions of any size, so Taste the Cracklin was more than happy when Phil told us that he only required catering for 35 guests. Their reception was intimate and personal, with the guest list only including close friends and family. The couple decided on our 'wedding catering with canapés and drinks service' menu, which features a formal catering style and real crockery and napkins.
As the guests arrived at the venue, our Taste the Cracklin waiting team began to serve the canapés. The couple had chosen gourmet sausage, fresh salmon, roasted duck, chicken liver parfait, and mini pizzas. Serving canapés sets a formal and elegant tone for the catering, which is perfect for a traditional wedding.
For the main course, we served our classic slow-roasted pig and sirloins of English beef, as well as a meat-free option. This was accompanied by fresh salad dishes and side options, including buttered new potatoes, gourmet coleslaw, seasonal leaves, and tomato and mozzarella salad. This created a delicious main course with many dishes for the guests to choose from.
Before dessert, we served a champagne toast to the guests and raised a glass to the happy couple. This was followed by the wedding cake, served beautifully with English cream and fresh fruit. This was the perfect end to the catering and created a lovely atmosphere for the rest of the evening.
Taste the Cracklin have over 5 different wedding catering menus on offer, with something to suit every event. We have a delicious variety of dishes and a long list of sides and salads. To book your catering today, simply let us know your party size, date, and location and we can begin to plan your perfect catering package.