This summer has been an important one, as it was a chance for some freedom that we have all missed over the last year and a half. Lockdown restrictions eased and social interactions were able to resume, including shopping, going out, and meeting with friends and family. Because of this, it was important to make plenty of memories to look back on. As the summer comes to a close, why not make one final memory with a Taste the Cracklin BBQ, like this one that we provided in August?
The Ferns are a very close family who have spent this summer making up for a lost time during 2020 and 2021. They enjoyed picnics, days out, tasty meals, celebrations, and more. However, with summer coming to an end, their meetups will become less frequent as the children return to school and work commitments increase. Because of this, they wanted to do something special to mark the end of a wonderful few months together. After contacting Taste the Cracklin, they decided to hire our team to provide an incredible BBQ menu for their end of summer celebration.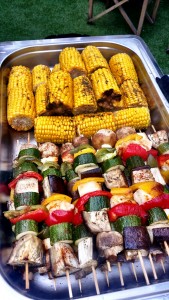 On the day of the BBQ, the sun was shining in the sky and the weather was lovely. It was the ideal conditions to enjoy a BBQ and host an outdoor celebration. Our catering team arrived in advance to prepare the dishes and cook our tasty menu. For the main course, we provided succulent sausages, British beef burgers, marinated chicken kebabs, BBQ spareribs, and vegetable and halloumi skewers. This was served with homemade chips, crunchy coleslaw, seasonal vegetables, leafy salad, and fresh bread rolls and wraps. Our BBQ menu is perfect for guests of all ages since it includes many dishes that allow you to create your own balanced and delicious meal!
Whatever style of catering you are looking for, Taste the Cracklin have the perfect menu for you. With so many dishes and catering styles to choose from, there is bound to be something that is just right. To book your catering today, simply let us know your party size, date, and location!