When it comes to your special day, you want to make sure that it's done right. Our crack team at Taste the Cracklin have catered for hundreds and hundreds of weddings and when it comes to catering, there is nobody you can trust more than us, to get everything right, down to the last detail. This became apparent for a young couple who recently asked us to cater for their big day. Allan and Barry had finally decided to tie the knot but needed help in choosing a menu. Before catering for an event, we make sure to meet with the customer first and go through all the details, from choice of menu, to the selection of table displays and the different kinds of service you want.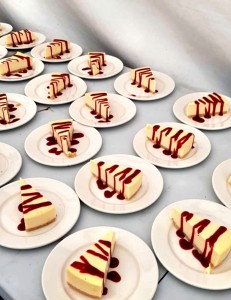 Prior to Allan and Barry's big day, they met with us to discuss all the finer details and opted to go for Wedding Menu 4, which includes drinks service, canapes, starters, a Hog Roast buffet, dessert and tea and coffee. They also decided to  display centre pieces on each of the tables and asked for their wedding cake to be garnished with fresh fruit in order to add a flourish.
When the day came, a jubilant Allan and Barry arrived at the reception as newly-weds and brought their hundred or so guests to the reception. The wonderfully tempting aroma of the Hog Roast was wafting through the air as our waiting staff served drinks and champagne. There was a wide selection of canapes for guests to choose from, including Pate Encroute, Chicken satays and mini quiches. For starters, the fresh homemade tomato soup and bread rolls was served to the table, followed by the buffet style, hog roast mains or the Whole Roast Salmon for vegetarians. And finally for dessert, a choice between the zesty lemon tarte or the creamy Cheesecake.
In addition to the wonderful desserts, guests were also treated to a round of wedding cake, served with tea and coffee which helped to perk some of the guests up after a long day drinking and dancing. Allan and Barry thanked us for making their wedding a wonderful one. We left the romantic couple to dance and enjoy their night as the Taste The Cracklin team discreetly packed up and tidied away our mess.