Thanks to advancements in technology, parents-to-be can find out the gender of their unborn babies from as soon as 10 weeks into pregnancy! While some will still prefer to keep the gender a surprise right up until the arrival, others simply cannot contain their excitement and want to find out as soon as possible.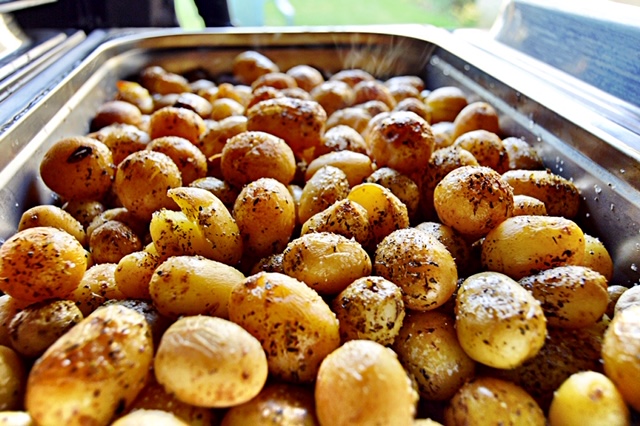 However, there is a third option. One that is gaining more popularity year on year as it adds another exciting pregnancy milestone that the whole family can be a part of. Yes, you guessed it; its the gender reveal party! If you're not familiar with this newly established tradition, the gist of it is this: Only the designated party planner will receive the news ahead of the big reveal, and they will usually commission a cake or balloon with a blue or pink centre so that when opened, everyone can find out the gender together.
Over the past few years, our team at Taste the Cracklin have received several requests from expectant parents who have wanted to celebrate the discovery of their baby's gender with an irresistible hog roast. Our most recent booking for this type of event took place last Saturday at Shelly and Alan's home in the countryside, where they had invited 55 people to celebrate with them.
For the menu, the couple had asked the Taste the Cracklin catering crew to serve our classic hog roast menu, with additional sides of cheese, jalapeno and coleslaw smothered fries and mixed salad with refreshing melon slices.
So as not to distract from the main focus of the event, our team set up the catering equipment in an inconspicuous spot in the garden which allowed plenty of space for the seating areas to be set up, and the 'boy or girl?' buffet table, which included a mountain of cupcakes with blue and pink icing, alongside the main cake which held the answer to the question.
Once everyone had arrived and the food was complete, it was time to get the party started, and after Taste the Cracklin helped the guests fill their plates, they all sat down to await the reveal.
After cutting the cake together, Shelly and Alan turned to show off the pink centre, at which everyone began cheering!