With Hog Roast Taste the Cracklin at the helm, fulfilling your catering needs in every way, your next party or event will surely be a resounding success. We're highly experienced in catering all kinds of special occasions, both private and business, from milestone birthday celebrations to wedding receptions and corporate hospitality functions to charity events, and in many different locations. Our trusty hog roast machines, which we build ourselves in our Lancashire factory, are gas-powered, so we can cook delicious food just about anywhere you choose, and not just the traditional hog roasts that we're famous for…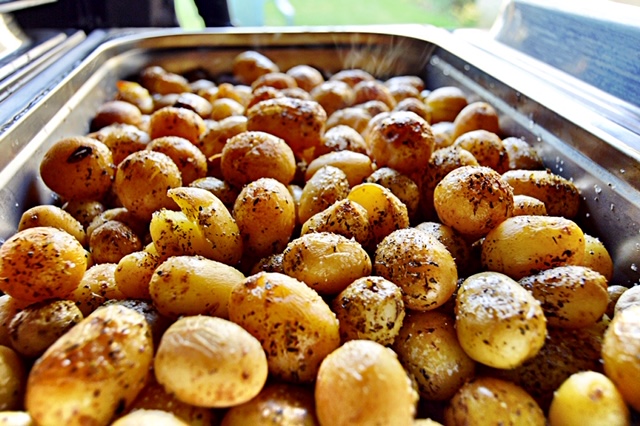 While Hog Roast Taste the Cracklin is renowned for those gorgeous, tender hog roasts that have long been part of our name, we also know that giving our customers plenty of choice and variety is a necessity these days, either to satisfy differing personal tastes, bigger appetites or dietary requirements, so within our menus, you'll find much more than expected. From spit-roasted meats including lamb, beef and poultry to speciality menus like our Southern Slow Roast and Loaded Fries, your carnivore guests will be treated to slow-cooked, succulent food that will tickle their taste buds. We can also provide additional options, including starters, desserts, sides and canapés, as well as alternative dishes for any guests on special diets – just let us know your needs in advance and we'll be more than happy to help.
Sometimes, however, one of our amazing mains is just the ticket and for a 60th birthday party that we catered over the weekend, our Hog Roast Taste the Cracklin chef and catering assistants cooked up a storm with a sumptuous hog roast that we carved fresh and hot in order to make piles of pigs in buns for more than forty guests. Our customer had asked us for a hog roast centrepiece, having enjoyed one at a friend's wedding last summer, and we did their guests proud, with mounds of soft, juicy meat and crispy, salty crackling, stuffed into fresh wraps and bread rolls and then topped with our own-recipe apple sauce and sage and onion stuffing, and by the end of the evening, everything had been completely devoured.