When it comes to planning the catering for your upcoming event it can be a stressful task. There's so many options and things that you need to take into consideration, sometimes you just want the weight lifting off your own shoulders and to let someone else take care of it. Well at Taste The Cracklin, we have all the answers, and often we have the answers to questions that you might not have even thought about.
When Susan was planning her husband's surprise party she had plenty on her hands, what with remembering who to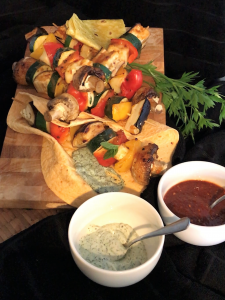 invite, the decorations, entertainment. One thing she knew she didn't want to handle was the food. It was her neighbour Jane who recommended Taste The Cracklin to Susan as we have catered for Jane for a number of years. When Susan called us she knew she had made the perfect decision for her party. With guests arriving who were vegetarians, vegans, gluten free and even guests who didn't like pork Susan was very worried, however after seeing our specially designed menu for the party it put all her worries at rest. We had arranged for Susan to have slow roasted succulent pulled pork, with spit roasted chicken as an option for those who didn't like pork. For the vegetarians we had our delicious vegetarian skewers with a wide selection of vegetables and halloumi, paired with one of our signature dips, or even put into a wrap makes for a delicious meal. The vegans would be having the same but without halloumi. And of course not forgetting the gluten free guests, a selection of gluten free bread rolls as all of our other dishes are gluten free, including our salads.
With so much variety for the evening we couldn't go wrong! The food was highly commented on and loved by every single guest, this is always the reward for us at Taste The Cracklin, hearing the lovely comments at the end of the night. It makes all the hard work worth it when we see happy faces tucking into their delicious food.