The Taste The Cracklin team had a lovely day last weekend in the glorious sunshine catering for a tranquil lakeside wedding for 70 guests! The bride and groom, Clare and Phil, had always been massive hog roast fans, so this was their number one choice for their wedding reception. However, the hog roasts they sampled in the past had always seemed to be served in a rather informal sort of way that they didn't think was appropriate for their wedding reception. They were absolutely over the moon though, when they saw Taste The Cracklin's range of elegant wedding menus, which offered them the opportunity to have the hog roast they loved so much, but also provide a more formal, varied menu that was befitting to their wedding day.
As well as a traditional hog roast (which was obviously a must!), the couple also chose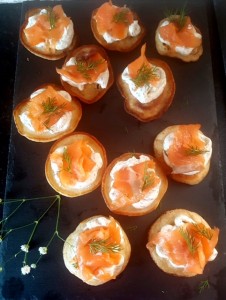 to have canapes to welcome the guests, including mushroom bouchees, mini Thai skewers and Peking duck wraps. They loved how Taste The Cracklin could provide a balance of exotic and traditional flavours and make it all from scratch by the lake! They also opted for a more formal 3 course meal with table service, and chose homemade soup to start, followed by the slow-roasted pork, rosemary-infused roast potatoes and seasonal vegetables, as well as one of our inventive vegetarian alternatives for the 6 guests who didn't eat meat.  For dessert, cheesecake fan Helen wanted our individually handmade cheesecakes, with a refreshing fruit salad as an alternative option.
The weather, location and food were all absolutely perfect, and the Taste The Cracklin team were constantly on hand to attend to the needs of all the guests. The happy couple had a brilliant wedding reception with the food they love lifted to another level. They told us the food had exceeded their expectations and their loved ones couldn't believe a hog roast company had managed to produce such a sophisticated and well-balanced menu! They also appreciated how efficient and discreet we were when it came to clearing up and making sure everyone was so well looked after throughout the day