At Taste the Cracklin, we love to ensure that all of our customers and their guests can enjoy gorgeous, suitable food, so when it comes to catering various diets and personal tastes, we've got it in the bag. If you're inviting any vegans or vegetarians, we have some tasty dishes available, including our popular vegan BBQ pulled pork alternative of jackfruit, which is served in buns and with slaw on the side, and vegetarian grilled halloumi and vegetables served in wraps alongside Tzatziki and sweet chilli dips. Plus if any of your guests prefer a different meat to our hog roasts, we can cook up a storm with a whole English lamb, sirloin of beef or some chickens or turkeys if you like.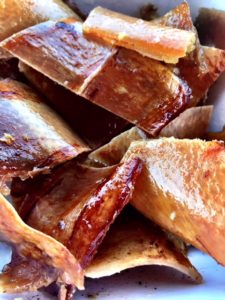 We're proud of our hog roast centrepieces, which we cook at your venue slowly but surely for hours on end on the day of your special occasion, and which give you moist and tender meat and crunchy, salty crackling, but we're also proud of everything else that we make using fresh, high-quality ingredients, which are local where possible, like the free-range meat that we cook for you. Our dedicated professionals here at Taste the Cracklin always go the extra mile to provide what our customers and their guests want and need, so you'll see lots of choice and variety within our extensive menus.
You're welcome to create your own menu for us to serve if you like and we have plenty of dishes on offer, with handmade canapés, starters, sides and desserts to add to your selected main. However, if you fancy an easy choice, one of our standalone menus may be just the ticket instead, like our Southern Slow Roast, which features a trio of meats and four sides, or our Traditional Barbecue, which has several meats as well as coleslaw, salads and chips. Alternatively, our Loaded Fries come smothered with meat, slaw, cheese and jalapenos, while our three-course Alfresco includes Italian meats, cheese and breads, a hog roast and then pudding.
No matter what kind of menu you're thinking of, Taste the Cracklin has got you covered, so call and book today.