Christmas is a time to gather with those around you, whether that includes friends, family, or your local community! The more the merrier is always the case for Christmas celebrations, and a tasty Christmas meal is no exception. Here is just one way to enjoy our tasty festive menu this Christmas…
After the last Christmas was spent with social distancing restrictions in place and limits on visitors, this Christmas it is more important than ever to gather with loved ones and spread happiness, kindness, and charity. A local community centre reached out to Taste the Cracklin earlier this year to arrange catering for their annual community Christmas, which features a visit from Santa, lots of music and dancing, and a delicious festive meal. Our Taste the Cracklin festive meal was ideal for the event and it was the perfect buffet to be served to the 120 guests.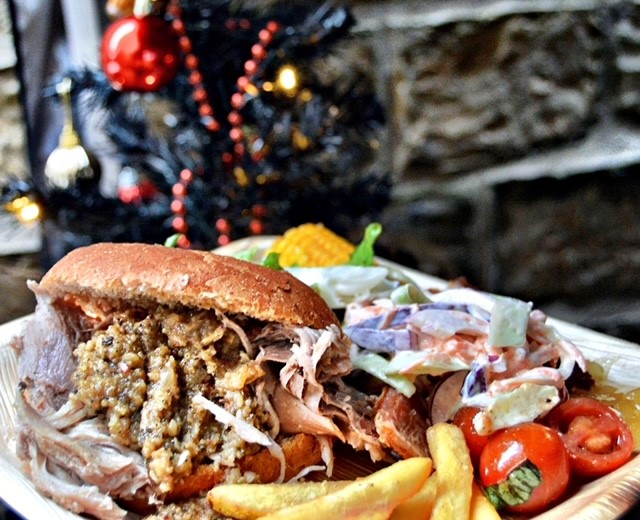 On the day of the event, the Taste the Cracklin team arrived in advance to prepare the catering for the 18:00 mealtime. We began by roasting the turkeys and ensuring that they are packed full of natural juices. We whole roast our turkeys over open flames, which makes sure that each slice of meat is succulent and delicious. Once cooked, the turkeys were expertly carved by our chef and served in fresh bread rolls, or a gluten-free alternative. The main dishes were served with a selection of sides, including pigs in blankets, seasonal vegetables, homemade gravy, cauliflower cheese, and roasted potatoes.
Our menu was served buffet style, allowing each guest to create their ideal meal. We had plenty to go around and something for everyone to enjoy! This festive menu was an ideal addition to the community Christmas event since it brought the guests together and provided a great talking point for the evening.
When it comes to catering, no event is too big or too small for Taste the Cracklin! We can cater to events of any size, anywhere in the country, so get in touch today to find out which menu is right for your upcoming event! We hope to hear from you soon!