We've been involved in a few traditional ale trails over the years, but this was the first time Taste The Cracklin had been asked to cater for a gin trail! Following a similar concept, whereby drinkers amble between country pubs and stop for a tipple in each one on the way, the pubs in the local area decided to showcase their artisan gins instead, with the hope of attracting a more diverse crowd. Another new addition to the theme was the presence of the Taste The Cracklin team at the final stopping point on the tour! We were asked set up camp on the last leg (when many of the gin-enthusiasts would probably be on their last legs too!) and revive them with one of some of our classic slow-roasted pork, served in freshly baked buns with our signature apple sauce and crispy crackling.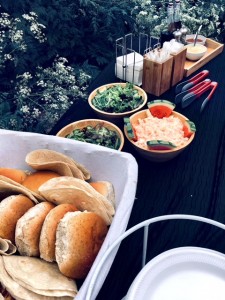 We got to the last pub on the gin trail just as it was opening and were greeted warmly by the landlord, who was eager to find out if their gin-trail concept was going to be a hit. He was also eager to try our famous hog roast that he had heard so much about from a fellow landlord who had hired us for an event last summer! Alas, he had to be patient though, as we always arrive at the venue several hours before the food is due to be served, to ensure we have plenty of time to slow-roast the meat to achieve maximum succulence and flavour.
Whilst we were busy cooking, we pictured the boozy brigade embarking on their journey and as the village clock struck 4, the chef was ready to carve the meat as requested by the event organisers, and the first of the gin trailblazers started to appear! They all looked rather pleased with themselves, if a little unsteady on their feet, and even more pleased to see us! We happily fed everybody as and when they arrived and several of the participants commented that they might not have managed to sample the final gin on the tour, if we hadn't rejuvenated them with our hearty hog roast! The event was clearly a massive success and landlord at the end of the trail thanked Taste The Cracklin for helping everyone to make it across the finish line!