When the boys are away the girls will continue to play, and play hard as it goes as the woman's rugby teams have enraptured us already in the opening week of the Woman's Six Nations. Last weekend, as the English Women team romped over the Scots, and the Welsh made a thrilling comeback over the Irish in an action-packed nail biter, the Taste the Cracklin were invited out to provide catering for our local rugby clubs watch party. We're not much of a rugby playing outfit ourselves, so we were more than happy to keep the boots stowed away and instead only suit up in our aprons and oven gloves, ready to serve a grand feast to our 55 guests.
The club had matches on the Saturday morning both for the men's and women's teams, so teams' organisers decided it would be worthwhile to make a day of it and invite out the Taste the Cracklin catering team to cook up a barbecue fresh and ready for the end of the matches and the beginning of the Six Nations. Both matches were duly won in superb style, so the teams were coming off a high and ready to celebrate for the rest of the afternoon. All that tough tackling and hard running also meant they certainly had appetites, so the Taste the Cracklin team had to be ready to go with plenty of food!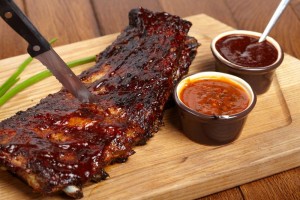 We had our hog roast which cooked during the morning's games so that it would be ready by the Six Nations' kick off, and though that alone might normally be enough for 55 guests, we were asked to also serve from our barbecue menu, meaning their were also rolls with our gourmet sausages, handmade burgers, chicken skewers, BBQ marinated spareribs, and BBQ pulled jackfruit. How does a grilled burger doubled up in a roll with an addition of freshly pulled pork sound, huh? Delish! If that wasn't enough our BBQ range also comes accompanied with fresh fries, gourmet coleslaw, and healthy helping of Greek style salad.
Those rugby players put us through our paces, and so we hope they enjoy the rest of the Women's Six Nations!