Carl and Jane's relatives from America were visiting for a few weeks and staying at their house and Jane wanted to surprise them with a welcoming party. However, their cooking skills were not up to scratch to cook for all their family and Jane had heard some fantastic reviews about the Taste the Cracklin team and decided to hire them to provide an indoor buffet at her home.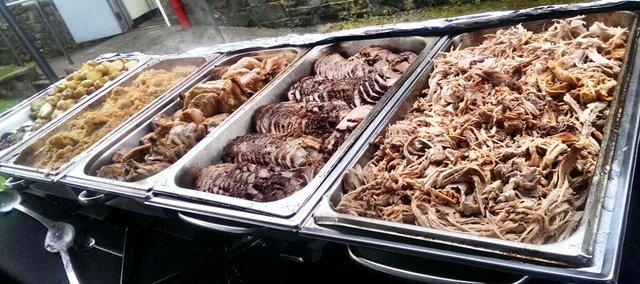 They invited all of their family round for the buffet, many of which had not seen Jane's cousins they had moved away to America. The Taste the Cracklin team arrived at Jane and Carl's house a few hours before the service so that they have chance to freshly prepare their ingredients onsite. All of the team's ingredients are locally sourced to ensure that the team support other local businesses. The couple chose the Hog Roast team's Southern Slow Roast Menu because it offered a great variety of different meats for the guests. The couple chose to serve the Cajun spiced whole roast chickens, the Creole pulled quarter of spiced lamb and the Texan 24 hour beef brisket which were all cooked beautifully. The meats were accompanied with a variety of hot sauces as well as bread rolls to serve the meat in to encourage the casual atmosphere. In addition, a variety of salads, corn cobbettes and new potatoes were served on the buffet.
   The couple's American cousins were delighted with the Hog Roast and loved the rustic, traditional theme that the team encouraged. The couple's party was a complete success and Jane promised she would hire the team again soon for her next big event because they had been fantastically friendly and the food they had provided had been delicious. It meant a lot to the couple to know that their relatives loved the Hog Roast and it definitely made the couple's life easier knowing they didn't have to cook for the large amount of guests. Also, when the guests had finished, the Taste the Cracklin team cleared away all of the rubbish so the couple did not have to lift a finger.