Another busy day at Taste The Cracklin inevitably means another wedding! We love catering for weddings for obvious reasons – the tear-jerking vows, everyone coming together to celebrate and of course the delicious food!
For Tina and Liam's special day they wanted a more relaxed, rustic yet romantic vibe. This had come through in the decorations as they had hired out an old barn for their ceremony that had been decorated with lots of lanterns and fairy lights giving a really romantic feel to it. As the wedding was already based on a farm the couple decided that a Taste The Cracklin would really fit in and provide the perfect catering for their day.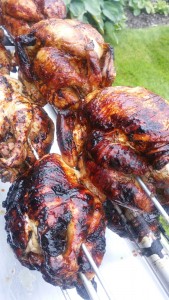 The ceremony was being held at midday, so we had to prepare for a 3'o'clock serve time after photos and welcome drinks. We prepared our traditional slow roasted hog for the couple along with a couple of spit roasted chickens and a leg of lamb seasoned with lots of rosemary and garlic so there was lots of variety and something to suit all tastes. As a few of the guests were vegetarians we prepared something special for them too in the form of a roasted vegetable tart that we served with halloumi skewers and of course they could help themselves to the other accompaniments such as our vibrant salads and vegetables.
 When serving time arrived the guests were in awe. They couldn't believe that Taste The Cracklin could provide such a beautiful arrangement of catering, especially for such a special wedding. Everyone complimented the chefs on the food and the happy couple thanked us for making their day that bit more perfect!
Before leaving we wished Liam and Tina a long and happy married life and discreetly tidied away leaving the wedding party to continue long into the night…