This summer, Rachel was offered a new job and this meant leaving her current one. After working at the company for twenty years it was finally time for her to say goodbye. However, Rachel wanted to go out with a bang and decided to hire Taste The Cracklin, after receiving a recommendation from a family member, to celebrate with her work friends. After arranging a venue, she hired a DJ while her friends went out to buy balloons and decorations.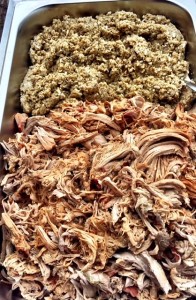 On the night, all of her colleagues arrived with good luck cards and bottles of wine to wish her well. The DJ began his playlist and her colleagues began to mingle around the bar. Once the party was underway, the Taste The Cracklin team arrived and set up outside, beginning to prepare their brilliant fresh food. The guests were drawn out of the venue as the smell of the fantastic hog roast drifted inside and built up a queue of hungry guests.
To prevent the guest's moods from taking a downwards turn when they got too hungry, the Taste The Cracklin team arranged a piping hot buffet and served up quick. As the guests enjoyed their Hog Roast, the team ensured that there was plenty for everyone to have seconds. A fantastic part about the hog roast is that it keeps cooking and keeps warm until that exact moment you want to eat it. This method of cooking ensures that even when the meats are kept toasty warm for a long time, they are still deliciously tender with lots of flavour when the guests are ready and the meat hasn't dried out and turned tough. This makes the Taste The Cracklin team a brilliant addition to any long event as they can keep the food on hold and ready to serve whenever your guests are ready. Rachel was pleased that her guests had had a fantastic night and were very happy with their catering. In return, she received mountains of good luck gifts and ensured she thanked the Taste The Cracklin team for their efforts as they cooked well into the night.