In terms of providing delicious hog and spit roasts, Taste the Cracklin is the number one choice around and not just locally; we often cater further away, either when a customer requests us to or to cover for another franchise. We've spent a long time perfecting the art of the hog and spit roast and wowing countless guests of our customers in this way, with traditional centrepieces that taste, look and smell amazing, but we've also spent many years making sure that we can cater for other tastes too.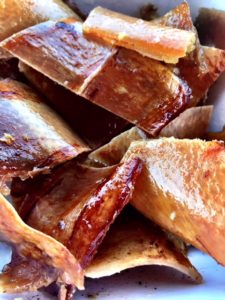 From our spectacular Southern Slow Roast Menu, which offers your guests three marinated meats and four hot and cold sides, to alternative main courses that cater for particular diets, such as vegetarian quiche or vegan kebabs, Taste the Cracklin has enough variety and choice to please everyone you invite. We also have plenty of homemade side dishes, starters and desserts if needed and can serve handmade canapés, so whatever you have in mind, we will easily do you proud.
Taste the Cracklin recently catered Lizzie's party at home, where she had asked us to cook a centrepiece hog roast to serve as pigs in buns (also known as hog roast rolls) to most of her twenty-five guests. Nevertheless, she also asked us to provide a gluten-free option for the guest of honour, her mum, whose birthday they were all celebrating. Lizzie told us that her mum was sad to not be able the same food as everyone else but that she was still looking forward to eating the pork itself, so when we told her we do serve pigs in buns to those with a gluten intolerance or allergy, just with suitable bread rolls or wraps, she was thrilled to say the least, and kept it as a surprise for her mum to find out on the day.
We catered this lovely party on Sunday afternoon, where our team worked hard to make dozens of pigs in buns to satisfy all of the hungry guests, including Lizzie's mum, who couldn't get over the fact that she could also eat them too.