If you need to cater for special diets, such as gluten-free, vegetarian or vegan, Taste The Cracklin can easily help you to do so, as we've spent many years making sure that everyone can relish our food. Despite it being part of our name, we're not just about hog roasts, and that's not to say that they're not our speciality dish that's loved by so many, as they really are. It's just that we know that all of your guests need to be catered and not just the majority, and that's in terms of personal tastes and appetites as well as special diets too.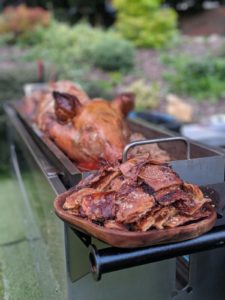 We have various menus to look through, you can mix and match items between menus if needed or we can even help you to design your own from scratch. Our Taste The Cracklin professionals are there for you from start to finish, whatever your needs. For example, vegetarians can enjoy our lovely veggie skewers, full of halloumi, mushrooms, tomatoes, peppers and red onion, or we can provide an alternative like Spanish quiche, stuffed mushrooms or peppers, with the latter two suitable for vegans. Just let us know your needs in advance and we'll do you proud.
Taste The Cracklin recently catered a bridal shower in the gardens of a lovely boutique hotel, where we cooked an amazing hog roast that most of the guests devoured with gusto, once we'd made piles of pigs in buns from the hot, fresh meat and crackling and our apple sauce and stuffing. However, we also made some lovely additions on the day too.
When Leigh asked us to cater her special occasion, she wanted some of our handmade canapés served, followed by our delectable pigs in buns served buffet-style alongside veggie skewers for some of the guests, and lastly, we would serve her own baby-shaped cake alongside fresh fruit and cream.
The day of the party was a sunny and bright occasion, where our team spent hours roasting the hog to perfection and creating a selection of canapés to serve alongside alcoholic and non-alcoholic drinks, which were loved by all. The pigs in buns and skewers also went down a treat, with most guests asking for seconds or more, and the main course was followed by the gorgeous dessert, for those who still had room left!