Taste the Cracklin always caters for vegan guests so if you're struggling for recipes why not try ours out below?
Jackfruit Burger
Jackfruit can be purchased as a whole fruit or if you're struggling to find it in the local supermarket, you can buy it tinned. First of all, Taste the Cracklin cooks off some yellow onion and then adds the jackfruit to the saucepan.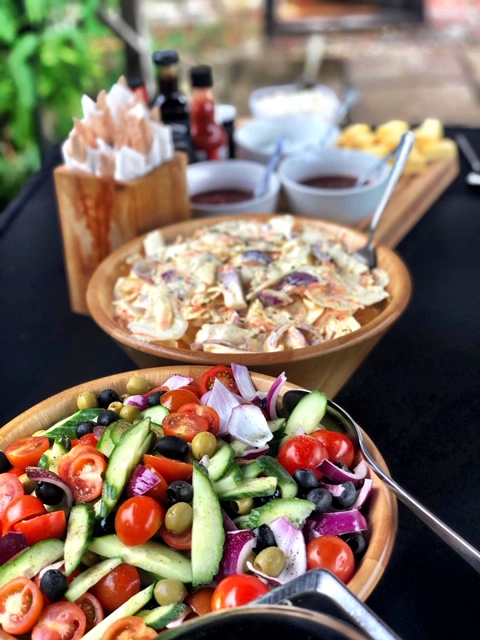 After the jackfruit has cooked away for about ten minutes, BBQ sauce is added. Taste the Cracklin usually uses bourbon BBQ sauce which compliments the jackfruit and onions well but whatever BBQ sauce takes your fancy will work. Now let it simmer away for another ten minutes. While the jackfruit simmers, you can make coleslaw of course using vegan mayonnaise. Cut and shred a quarter of a white cabbage, cut and slice a half of a red onion and then grate two carrots. For extra flavour add a pinch of lemon zest before adding the mayonnaise. It is best served crunchy with the BBQ jackfruit so use a minimal amount of mayonnaise. To stack the burger, Taste the Cracklin recommends putting a slice of vegan cheese at the bottom of the bun, then add the steaming pulled BBQ jackfruit mixture before topping it with the homemade coleslaw. It is completely delicious! The jackfruit is now a pulled consistency, completely tender and extremely flavourful. Serve with a side salad and some chips.
Vegetable Skewers
Taste the Cracklin tends to use Mediterranean vegetables such as courgette, egg plant, tomatoes, peppers and red onion. Once these are sliced, a drizzle of olive oil and Cajun seasoning is then added before the vegetables being put onto a BBQ skewer. These can be cooked either in the oven for 20 minutes or grilled between 8-12 minutes ensuring that the skewer is turned frequently. Once cooked, the vegetables are then added into a wrap with sweet chilli sauce.
Vegan sausages
The main ingredient in Taste the Cracklin's vegan sausages is chickpeas, accompanied by butternut squash and roasted pepper. Chickpeas, butternut squash and roasted red pepper are mashed together. Garlic powder, paprika, black pepper, salt and chilli flakes are then added. Once mixed altogether, Taste the Cracklin uses their sausage machine to get the mixture into clear seaweed pouches that look like a sausage. If you don't have a sausage machine, just roll the mixture into a sausage-shape and cook for 12-15 minutes in the oven. Serve in a roll or with a nice couscous salad.