Outdoor weddings appeal to a lot of couples in the summertime, but if you've chosen to be one of the few to embrace the great outdoors this winter then you're not alone! While there are several benefits which come with getting hitched in the colder months of the year, you've also more than likely been met with a series of disgruntled comments and your fair share of sideglances from guests who might think you've gone mad, am I right? But there's no need to fret because Taste The Cracklin has the perfect way to warm your friends and family up to the idea of an outdoor winter wedding – literally!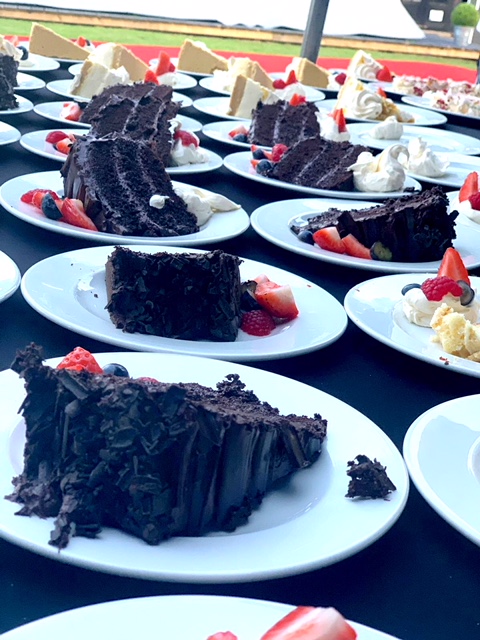 With years of industry experience under our belts, Taste The Cracklin knows exactly what clients and their guests want from a catering service, which is why we have come up with a variety of comprehensive packages that can be tailored to suit your every need. For soon-to-be-married couple Joe and Katy, this meant serving their 200-strong wedding party a buffet which was based on our incredibly popular southern slow roast menu with an added cake and hot drinks service to round off the occasion.
Determined to meet the couples chosen serving time of 3pm, the Taste The Cracklin team arrived at the open-air reception venue hours before  Joe, Katy and their guests were scheduled to make an appearance. Wasting no time, they pitched the catering gazebo and wedding marquee to protect the group from any unpredictable rain-showers before setting to work on the mouth-watering spread. Before long, scents of BBQ pork butt, cajun spiced whole roast chickens and creole pulled quarter of spiced lamb filled the air. With the meat being kept warm in our chafing dishes the team whipped up generous portions of mac and cheese, mixed salads and sweet potato wedges as well as a vegan-friendly alternative of grilled veggie skewers.
Despite the plummeting temperatures, the guests remained in high spirits as they warmed themselves up with the piping hot food and drinks that were on offer; and the loved-up couple were so pleased with the attention to detail that our dedicated catering crew had paid to their special day.