Hog Roast Scarborough is thrilled that we will be able to party once more this summer! Hog Roast Scarborough has such scrumptious menu's awaiting your call so let's see what will take your fancy…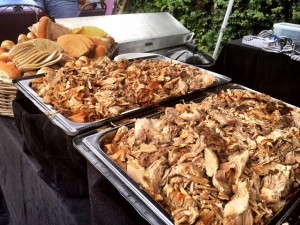 Classic Hog Roast – enjoy succulent and flavourful pulled pork with tasty stuffing and mouth-watering crackling in a roll of your choice. Hog Roast Scarborough provides a selection of rolls including cheesy, wholemeal, seeded, white and tortilla wraps. The rolls are served with a dash of sauce, will you opt for the traditional apple sauce or try something new, sweet chilli or mustard perhaps? The Class Hog Roast is such a delicious meal on its own, but the option is there for any additions such as fresh salads, or herbed new potatoes.
Southern Slow Roast – a super exciting menu as it's completely different to any experience you would have come across before. It is inspired by America with the choice of three meat options, all marinated and slowly roasted so that it is full of flavour and just falls apart creating a melt in the mouth pleasure. Beef, lamb, pork, chicken, or BBQ ribs, take your pick! All as incredibly delicious as the other! The side dishes are divine: indulgent Mac and cheese, buttered corn, tasty sweet potato fries, colourful Greek salad, crunchy coleslaw, or seasonal leaves mixed salad – spoilt for choice!
BBQ – such a delightful gourmet experience! Enjoy flame-grilled beef burgers, flavour-filled sausages, desirable chicken kebabs and tender BBQ spareribs! These gorgeous-tasting meats are accompanied by fresh salads and a choice of chips or sweet potato fries – delish!
Alfresco – this is an absolute feast! Begin with an antipasti platter filled with gourmet cheeses and fine meats, served with breads and flavoursome nibbles. Then enjoy a whole roasted pig with all its delights, three scrumptious and light salads and a potato option. To finish, indulge in a heavenly dessert, rich and divine chocolate torte perhaps? Or a light and fluffy cheesecake? All desserts are served with cream.
Choose any of these super tasteful menus or browse through the rest of the menus online. Hog Roast Scarborough guarantees an inviting spread, displayed beautifully and highly-flavoured. Book now to avoid disappointment!